As Protests Subside, the Plight of Israel's Ethiopian Community Is Only More Glaring
Israel's Ethiopian community took to the streets again on Wednesday afternoon to protest police violence, racial profiling, and discrimination
Israel's Ethiopian community took to the streets again on Wednesday to protest police violence, racial profiling, and discrimination. The third day of protests saw increased police preparation, scrambling politicians, and mounting anger from non-Ethiopian Israelis, some of whom were deeply inconvenienced by Tuesday's country wide protests, of which some culminated in violent incidents. The protests were sparked by the fatal shooting of 18-year-old Solomon Tekah on Sunday by an off-duty cop.

For daily updates, subscribe to our newsletter by clicking here.

Tuesday's protests ended with 110 policeman, as well as protestors, and bystanders, injured, and 136 protestors arrested. Property damage was reported as some protestors attacked police and private cars, ambulances, and public transportation, setting fire to several vehicles with Molotov cocktails and smashing the windows of others. Around 50,000 commuters were stranded for hours on Tuesday in traffic caused by the demonstrations.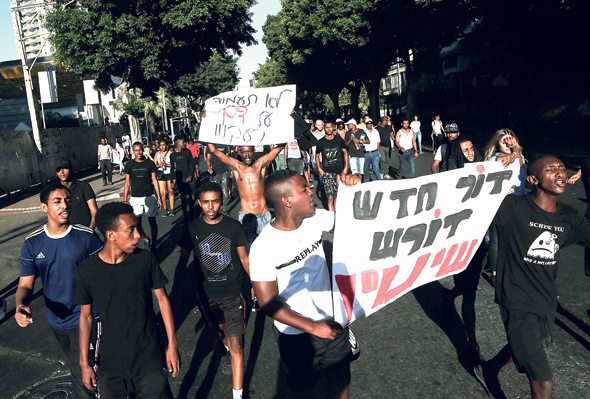 Wednesday's protests. Photo: Avi Mualem

Prime Minister Benjamin Netanyahu, who said the protests were just but the violence was unacceptable, announced the formation of a committee chaired by himself to discuss the integration of the Ethiopian community into Israeli society. He was personally committed to follow the implementation of needed corrections, he said.

Acting police chief Motti Cohen and Israeli Minister of Public Security Gilad Erdan met Wednesday with a forum of Ethiopian community leaders, some of whom spoke against the violent incidents and called for restraint. Erdan committed to setting up a dedicated police department to investigate racism-motivated actions by policemen.

Wednesday's protests were smaller in scale and less flammable than Tuesday's, with only several protestors arrested.

The underlying sentiment conveyed by social media discussions and news sites talkbacks Wednesday ranged mostly from detachment to anger with racist undertones. Only few non-Ethiopians chose to join the protests, and unlike previous protests, Israel's business sector elected to stay mum.

When the LGBT community took to the streets in July 2018 to protest a new surrogacy law that failed to extend the right to use surrogacy to the country's gay population, many companies rallied in support. Companies such as Apple, IBM, IronSource Ltd., Procter & Gamble, and SodaStream publicly joined in the protest, giving employees time off to protest. Other companies, among them Microsoft's Israeli unit and chipmaker Mellanox Technologies Ltd., announced they would provide a grant for any employee turning to surrogacy, regardless of sex, marital status, or sexual orientation.

In early 2018, when Prime Minister Netanyahu announced a plan to deport tens of thousands of African asylum seekers, several luminaries of the Israeli tech ecosystem spoke out against the plan. Among the local tech leaders who took a public stand on the issue were Yossi Vardi, who has invested in over 80 startups; Dov Moran, one of the inventors behind the USB memory stick; digital printing pioneer Benny Landa; and Ran Sarig, co-founder and CEO of Datorama Ltd.

But on Wednesday, Israel's tech and business sector was mostly silent, with most companies acknowledging the ongoing event only to let their employees leave early to avoid extreme traffic caused by demonstrations.

Most of Israel's Ethiopian community immigrated to Israel in two state-led operations, the first between 1979 and 1991 and the second in 1991. Today they number 150,000, 2% of Israel's population. Less than half are Israel-born.

Data published by the Adva Center, a Tel Aviv-based non-partisan Israeli policy analysis center, shows that the Ethiopian community is the poorest group of Israel's Jewish sector. 23% of Ethiopian households are defined as poor, 8% as poor-adjacent, and 33% as lower middle class. Looking at the country's entire Jewish population, only 13% of households are defined as poor.

The net monthly income for an Israeli Ethiopian household in 2016 was NIS 11,250 (approximately $3,150), according to the Israel Bureau of Statistics (IBS), 29% less than the average monthly income for the entire population—and the average Ethiopian house numbers four people, compared to 3.3 in the general population. Ethiopian couples divorce at a rate almost double that of the general population, resulting in more households with a single income-earner, usually a woman.

Men of Ethiopian descent earn NIS 8,250 (approximately $2,310) a month on average according to Adva, 36% less than the average monthly wage for a Jewish male in Israel, while Ethiopian women earn a monthly NIS 5,600 (approximately $1,570) on average, 35% less than the average Jewish woman. Both genders still earn above the average monthly wage for Arabs with an Israeli citizenship, however.

When it comes to education, the number of students of Ethiopian descent that now receive a high school diploma climbed up from 36% in 2008 to 62% in 2017, according to the IBS, compared to 79% in the general Jewish population. The number of Ethiopians that qualify for university education, despite rising from 21% in 2008 to 40% in 2017, is still much lower than the 69% rate of the general population.

Following the community's last wave of protests against racism in 2015, the government established an investigative committee. A conclusion report submitted in 2016, the Palmor report, found that people of Ethiopian descent were indicted more than the general population (3.5% compared to 2%), and the number of indictments filed against Ethiopian minors was 8.5%, more than triple their percentage in the population.

According to a follow-up Palmor report that looked at the implementation of the committee's earlier recommendations, submitted earlier this week, the bodies that implemented the smallest number of recommendations were the Israeli Ministry of Education, the Israeli Ministry of Culture and Sports, and Israel Police.