Eager to Export, Israel's Cannabis Companies Offer to Fund Government Manpower
Approved in January, export of medical cannabis from the country is set to start in September but has run into continuous problems
Fed up with constant delays in Israel's cannabis export, the country's medical cannabis companies have banded together to offer the Israeli Ministry of Health a deal. To fund the manpower necessary for starting the export, these companies suggested the ministry place a special levy on exporters.

For daily updates, subscribe to our newsletter by clicking here.

Most Israeli cannabis companies invested millions of shekels to ready themselves for export, approved in January and set to start in September. As part of its preparations, the ministry is demanding five additional positions for its cannabis unit. These positions have yet to be opened.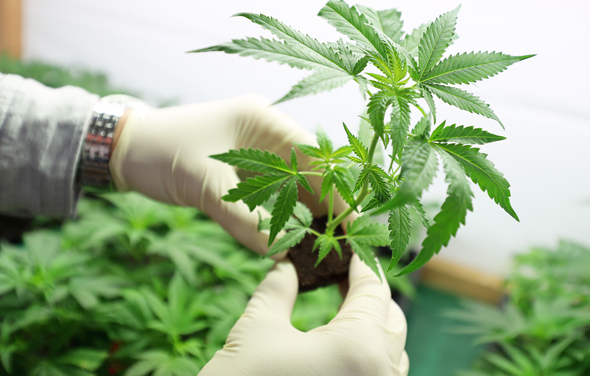 Medical cannabis. Photo: Shutterstock

Meir Ariel, co-founder of cannabis company Bazelet Group, told Calcalist that with each day that passes, the damage to the local industry and to private and state profits increases. Putting off export because of a few positions despite a Ministry of Finance report that predicted it could bring in as much as $1 billion a year is puzzling, he said.

The matter is disturbing and irritating, said Dov Amitai, president of the Israeli Farmers' Association and owner of Amir Marketing & Investments in Agriculture Ltd., a Tel Aviv-listed company with a market capitalization of $118 million. The government approved the export, an inter-ministerial team was established for this exact purpose, and every ministry has risen to the occasion except the ministry of health, he said.

Entrepreneurs in the domain have offered to finance those government positions via a levy, Amitai said. "It is inconceivable that 300 farmers that invested hundreds of thousands of shekels are being held hostage by the ministry due to manpower issues." Furthermore, he said, the Ministry of Finance approved those positions, but the director-general of the health ministry used them for other units instead, despite them being delineated specifically for the cannabis unit.

Even putting aside the potential income for the state, cannabis holds great potential for the development of Israel's industry, agriculture, and its globally sought knowledge, Shraga Brosh, president of the Manufacturers Association of Israel, told Calcalist. Israel could be a world leader, he said. The problem doesn't seem to be money, he added, but rather a deliberate attempt to halt the export or just a lack of leadership.

The Ministry of Health has yet to address the offer, Brosh said.

The ministry of health declined to comment.