Recent Banking Sector Upheaval Leaves Israel Even More Bereft of Female Leaders
A recent Standard & Poor's report revealed that soon, of the 125 highest capitalized companies on the Tel Aviv Stock Exchange, only one will have a female CEO
Despite a growing spotlight on workplace gender equality, Israel is seeing a decrease in the number of women heading companies listed on the TA-125 index, which lists the 125 highest capitalized companies on the Tel Aviv Stock Exchange, according to a recent report by Standard & Poor's.

The report counts only three TA-125 companies—Israeli Banks Discount, Leumi, and First International Bank of Israel—that currently have female CEOs. Banking is currently the only TA-125 sector that even has female leaders, after over the past few years three real estate companies saw their female CEOs step down and replaced by men.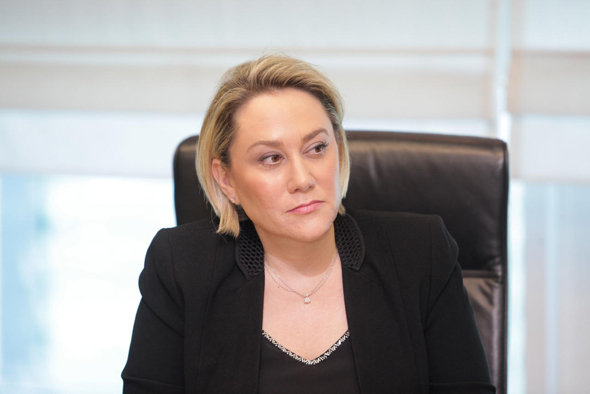 Lilach Asher-Topilsky. Photo: Orel Cohen

Including all three bank CEOs, women currently make up 2.5% of the leaders of companies in the index, and two of them, Lilach Asher-Topilsky of Discount and Rakefet Russak-Aminoach of Leumi, have recently announced their upcoming retirement. At least one of them, Asher-Topilsky, will be replaced by a man. A replacement has yet to be announced for Russak-Aminoach but current floated candidates are all men.

According to the report, between 2009 and 2019 the number of female CEOs among S&P 500 Index companies fluctuated. The highest number, 28, was recorded in 2017, but it currently stands at 24. Global companies with a female CEO include IBM, Lockheed Martin Corporation, Nasdaq, Oracle Corp., General Motors, and The Hershey Company. The sectors with the highest number of female heads are infrastructure, financial services, IT, and consumer products.

The number of women-led companies among the S&P Europe 350 Index has seen a minor improvement over the past decade, according to the report. Of the 350 leading European companies included, 15, or 4.3%, currently have a female CEO, the highest number ever. In 2009, that number stood at 6, or 1.7%. Most of them are in either the financial services sector or the consumer products sector.