Bird to Start Carding Israeli E-Scooter Users
The Los Angeles-headquartered electric scooter-sharing company intends to require a scan of users' ID cards or driver's licenses as proof of age
Los Angeles-headquartered electric scooter-sharing company Bird Rides Inc. will soon start requiring Israeli users to provide a scan of their identification cards or driver's licenses as proof of age, according to an email sent to local users Wednesday. Israeli law sets the minimum age for using micro-mobility vehicles, which include e-scooters and electric bicycles, at 16, but Bird's user policy limits the service to users over 18, citing safety concerns.
Bird is one of four different shared-scooter services operating in Tel Aviv. The other three are Berlin-based Wind, operated by BYKE Mobility GmbH; San Mateo, California-headquartered Lime, incorporated as Neutron Holdings Inc.; and LEO, operated by Israel-based electric scooter brand Inokim.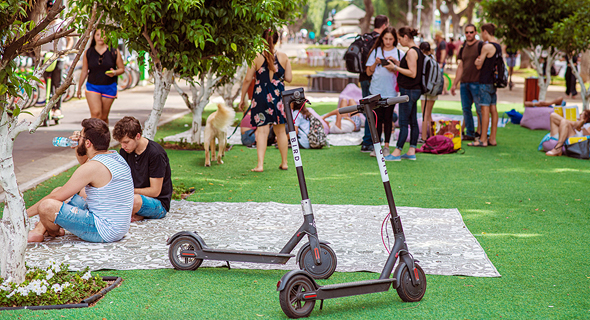 Bird scooters parked in Tel Aviv. Photo: Yuval Chen
New regulations that came into force in Israel in July determine that people between the age of 16 and 18 who do not have a driver's license and have not passed a written driving exam will be required to undergo a short course and successfully pass an examination to gain permits for e-scooters and e-bikes.
With thousands of micro-mobility vehicles flooding its streets, Tel Aviv is constantly struggling to balance between the usefulness of the services in its highly congested roads and the disturbances they create. In the first five months of 2019, the city issued 9,000 tickets to e-scooter and e-bike users who rode their vehicles on sidewalks. New city regulations, effective next week, will hold shared-scooter service operators responsible for users' obstructive parking, limit the number of vehicles per-operator to 2,500, and ban the use of alarm systems. Police in Tel Aviv has also recently begun to systematically pull over e-scooter users for breathalyzer tests. On Wednesday, the city announced it has added a function to its municipal mobile app letting residents report illegally parked scooters.