Opinion
Israeli Startups Should Set Their Sights on Africa
With Africa's growing markets, Israeli startups have both the financial incentive and the moral obligation to play a part in combating poverty, disease, climate change, and food scarcity in the continent
Half of the world's fastest-growing economies are located in Africa and yet, African economies constitute only a tiny segment of Israeli exports. While Israeli exports to the U.S. amount to $1.7 billion annually, exports to Africa only amount to $46 million a year, including the diamonds industry.
With Africa's growing markets, Israeli startups have both the financial incentive and the moral obligation to play a part in combating poverty, disease, climate change, and food scarcity in the continent.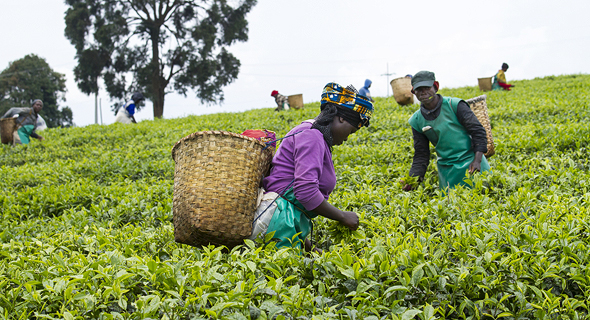 Tea farmers in Rwanda. Photo: Shutterstock
Farmers and agriculture businesses in Africa could form a trillion-dollar food market by 2030, according to a 2013 study by the World Bank. The continent holds almost 50% of the world's uncultivated land suitable for food crops, comprising as many as 450 million hectares that are not forested, protected, or densely populated. Given the low availability of arable land in Israel—13.73% in 2015, according to the World Bank—this offers huge expansion opportunities for Israeli agricultural businesses.
Africa has the potential of becoming the breadbasket of the world, but for this to happen, policymakers need to focus on offering significant support to the agriculture sector which accounts for nearly 50% of the economic activity in the continent.
Currently, only 4% of Sub Saharan African farmland is irrigated, with most farmers using archaic techniques such as flood irrigation, which is highly inefficient. This leaves huge potential for companies from Israel, known for its irrigation technologies, to sell their products to farmers.
Some Israeli companies have already jumped on the wagon. In March, Israeli drip-irrigation company Netafim Ltd. signed a $66.5 million deal with the Rwandan government to bring much-needed irrigation to Rwanda's Eastern Province which has experienced the adverse effects of global warming through drought.
By 2025, half of the global population will be coping with water scarcity, according to the World Health Organization. With this in mind, many Israeli water companies can benefit from investment in Africa where the need is self-evident. Israel is dealing with its own water challenges through a combination of technological innovation and government initiatives, policies, and partnerships and can spearhead the shift towards sustainable water management in Africa.
Sub-Saharan Africa's population of 1 billion people is rising rapidly, and current predictions estimate this population will quadruple by the end of the century. By 2050, the United Nations predicts that there will be more African than Chinese people in the world. A decline in Sub Saharan African fertility rates—albeit at a slower rate than the rest of the world—is leading to a favorable demographic profile with the increase in their working-age population and a subsequent faster rate of growth in the economy. Additionally, Africa's growing middle class of 350 million people is driving prosperity and is available for Israel's business-to-customer companies to tap at a time when developed markets have become increasingly saturated.
The Israeli fintech sector has become increasingly recognized for its quality and reach, with almost 500 companies in the fintech sector serving hundreds of global financial institutions. At the same time, the number of mobile internet subscribers in Sub-Saharan Africa has quadrupled since the start of the decade according to London-headquartered mobile network operators' trade association GSMA. This number is predicted to grow at a rate of almost 5% per year over the next five years, more than twice the global average, representing a growth of 440 million handsets in the next eight years. Israeli fintech companies would be foolish to ignore the massive potential for business indicated by this phenomenal rise in internet users.
According to a recent report by financial consulting and advising firm Ernst & Young, the fintech landscape in Africa has grown at an annual rate of 24% over the past 10 years and is primarily being fueled by South Africa, Kenya, and Nigeria. The sector shows promising signs of accelerating growth and business opportunities for Israeli fintech companies, should they choose to enter the market.
Dan Amias is a Blum Global Fellow serving as a strategy advisor for Africa activities at Tel Aviv-based nonprofit Start-Up Nation Central.