Interview
DSP's Chips Help Alexa Home In on Your Voice
DSP has had to reinvent itself several times since its 1994 Nasdaq IPO, but today the company's advanced voice recognition chips are installed in devices used by Amazon, Samsung, Google, Baidu, and Alibaba
Israel gets a lot of hype for its ecosystem chock full of startups. It is easy to forget that the local tech industry was built on the foundations set up by more mature companies that have been around for a few decades. One of those Israeli veterans is wireless chipset pioneer DSP Group Inc., which was founded in 1987 in Israel and listed on Nasdaq in 1994. The company's research and development center is based in Israel.

DSP has invented itself three times organically, without relying on acquisitions, Ofer Elyakim, the company's CEO for the past decade, said in a recent interview with Calcalist. "In DSP we manage over and over again to create something from nothing, partly because the company is relatively small and partly thanks to Israeli innovation capabilities," he said.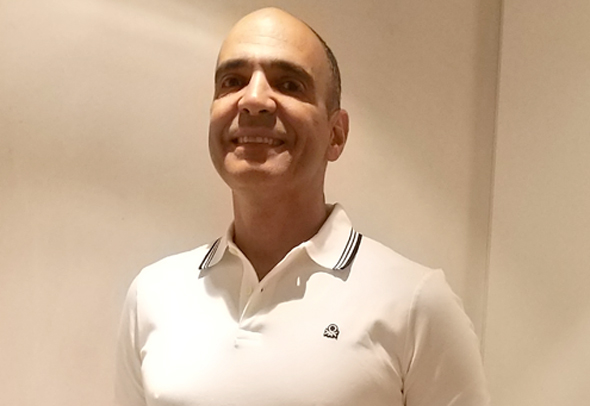 DSP Group CEO Ofer Elyakim. Photo: PR:
DSP currently has a market cap of $313.8 million, the result of a 20% increase in its stock since the beginning of 2019. The company reported revenues of $29 million for the second quarter of 2019 and a net loss of $521,000, but its non-GAAP diluted earnings per share was $0.07, above the analyst consensus of $0.02.
DSP started out as a developer of chips for wireless phones. Today, the company's chips offer advanced voice recognition capabilities that led to it being used in devices that connect to Amazon's virtual assistant Alexa, and in similar devices manufactured by Google and Samsung.
"We used existing technologies and the ample nuclear knowledge we accumulated to adapt to very advanced markets, much more than in the past," Elyakim said. "Today we can achieve very high quality of voice recognition," he said. DSP took a lot of its existing capabilities that no longer held much value for land lines, but were "technological gold," and applied them to new markets in a way that gave the company an advantage over other chipmakers, he said.
One example is enterprise video conferencing, which today require devices that combine audio and video with the ability to present documents and presentations, Elyakim said. In the past, DSP built platforms that enabled wireless home phones to last 20 hours without charging—"today, there are still no earbuds with that capability," he said. Another example is a wireless unit that could last three months on standby without charging.
"We took a lot of these technologies, our own private goldmine, and adapted them to new markets, and instantly became very relevant again," Elyakim said.
Elyakim did not disclose all of DSP's collaborations, but he did confirm that DSP is one of Amazon's leading partners when it comes to voice recognition.
"Our technology can differentiate the human voice from complex background noises. A user who wants to issue a command to a device from 3-5 meters away must be able to do so even when the room is loud or there is background music," he said. DSP is currently working with Amazon on a new generation of devices that will be even more voice sensitive, he said. Another goal is to improve the lifespan of a device's battery, he said.
"We also have a collaboration with GoPro," Elyakim said. "All the voice commands on those cameras, including when they are used in harsh conditions such as skiing or surfing, must be conveyed with no difficulty, and that requires us to negate a lot of noise."
The difference between GoPro and Alexa is that GoPro's camera cannot always connect to the cloud, so all relevant commands must be coded into the chip, which must be very small and take up almost no battery, Elyakim said.
"We also collaborate with Samsung on smart watches, smartphones, and tablets—that's our first collaboration, announced in 2015," he said. "We also support Google Voice and Amazon and Google's Chinese counterparts Alibaba and Baidu."
All of DSP's partners when it comes to its voice command business consider voice command to be an integral part of every home device in the future, Elyakim said. "In a recent conference Haier Group held in China, it announced its intention to enable voice command in every product it manufactures, from washing machines to dish washers to refrigerators." DSP's revenues from its voice command business are seeing an annual growth rate of 70%, he said: the company's revenues from the segment were $11 million in 2018, but already reached $10 million just in the first six months of 2019.
The giant corporations DSP works with demand complete access to their entire operations, Elyakim said. "It doesn't bother us as long as we know that our openness helps us define the next product domain. We receive a lot of very important feedback, and insight into what those companies want to see in the future."
Many tech giants have been criticized lately for issues of privacy, but all of DSP's products are GDPR-compliant, Elyakim said. The way the company's devices listen is very different from other devices, he explained. "We operate as a gatekeeper and don't use the information at all. Our gatekeeper listens, but nothing is stored until the magic word Alexa is said. Only then does our chip wake up the system. Until that point, we blocked every sound, nothing enters the device and nothing is passed on to the cloud."
The industry is currently undergoing unprecedented consolidation, meaning there are almost no companies DSP's size, as most have become part of larger entities, Elyakim said. He does not rule out the possibility of DSP doing the same. "As a public company, we have a duty to our shareholders to seriously consider any offer," he said. The majority of DSP's shareholders, 80%, are American institutional investors like BlackRock Inc. and Raging Capital Management LLC.
The company is also not ruling out the possibility of making acquisitions, Elyakim said, especially in the domains of IoT, security systems, smart houses, audio, artificial intelligence, and lifestyle-related technologies. However, public assets are very few while private companies often expect very high offers, he said.
Consolidation also offers new business opportunities, he said. "Companies that grow through acquisitions cannot create value via all the activities of the businesses they bought. They usually buy based on certain product lines they are interested in, but don't consider the rest of the product lines they gain by the acquisition. So, there is a possibility that those auxiliary product lines will be offered up for sale, or that another company, for example us, will take over their market share."
Consolidation in the industry is what enabled DSP to reach a market share of 50% for enterprise video conferencing systems, a market in which it had virtually no foothold in 2013, Elyakim said. Other players in the market are giant corporations like Polycom Inc., Cisco Systems Inc., and Avaya Inc.