FIMI in Talks to Buy Controlling Stake in Kibbutz-Owned Water Treatment Company
FIMI already holds 18% of London-listed Amiad Water Systems; now, it is looking to acquire up to 27% more, according to two people familiar with the matter
Israel-based private equity firm FIMI Opportunity Funds is in advanced talks to buy a controlling stake in Israel-based water treatment and filtration company Amiad Water Systems Ltd., according to two people familiar with the matter who spoke to Calcalist on condition of anonymity. FIMI already holds 18% of the London-listed company, bought across two deals, but is looking to acquire up to 27% more, the people said.

Currently, northern Israeli kibbutz Ami'ad holds 49% of Amiad. The company currently trades at GBP 2.2 per share, giving Amiad a market capitalization of GBP 50 million, and the 27% stake a valuation of GBP 13.95 million (NIS 60 million). As FIMI is expected to pay a control premium of 10%-20%, the stake could be worth as much as GBP 2.6 per share, or GBP 17.4 million (NIS 75 million).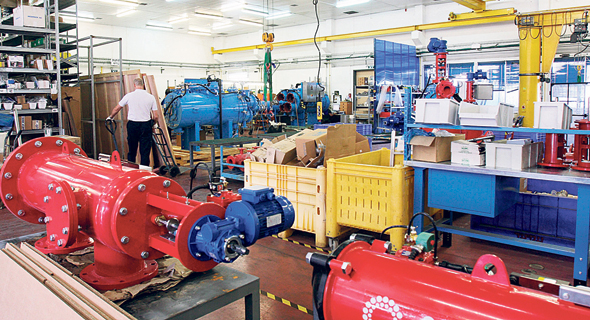 Amiad's manufacturing facility in Ami'ad. Photo: Nimrod Glickman
Two thirds of the sum will go into Amiad and will be used for corporate activities, the people familiar with the deal said, and a third—around GBP 5.8 million—will be divided between the kibbutz's 200 members, making for a GBP 29,000 (NIS 125,000) individual payoff.
Founded in 1962, Amiad manufactures and sells environmentally friendly water filters and filtration systems for the industrial, municipal, and irrigation markets, and is considered a market leader in its segment. It employs around 700 people globally, but its main manufacturing line is in kibbutz Ami'ad. The company listed on the London Stock Market in 2005, and ended 2018 with revenues of $114 million and EBITDA if $9 million, up from $112 million and $4.1 million in 2017. The company's cash and cash equivalents was $60 million at the end of 2018.
FIMI bought a first 9% stake in Amiad in 2018, paying $5.3 million to existing shareholders. At the time, FIMI stated it was not part of a takeover attempt. A person familiar with the deal told Calcalist at the time that FIMI has two settings—it is either a controlling shareholder or a full partner, and that it thinks Amiad has untapped potential the firm can bring to fruition. In May, FIMI paid $6 million to existing shareholders for another 9%. Should the talks with Amiad fail, FIMI can also attempt to increase its shares by acquiring listed shares, but that will be a more expensive endeavor.
FIMI, founded in 1996, is Israel's largest private investment firm, with over $5 billion in assets under management. The company has acquired a controlling stake in 89 companies to date. In August, Calcalist reported that FIMI is in talks to sell micro irrigation company Rivulis Irrigation Ltd., in which it has a 54% stake.