Israeli Banks Leumi and Discount to Raise CoCos Outside of Israel
Both banks are looking to raise around $280 million over two years, according to two people familiar with the matter who spoke to Calcalist on condition of anonymity
Israeli banks Leumi and Discount are attempting to raise bonds outside of Israel for the first time. The two banks are in advanced talks to raise hundreds of millions of dollars from institutional investors in the U.S. and Europe, in the form of contingent convertible bonds (CoCos) that will be listed for trading on the Tel Aviv Stock Exchange, according to two people familiar with the matter who spoke to Calcalist on condition of anonymity.

Leumi has contracted Citi Bank for the process, while Discount will likely hire Goldman Sachs, the people said. Leumi is expected to start raising bonds in December, aiming for around NIS 1 billion ($282.6 million) over two years. Discount, expected to start raising bonds in early 2020, has a similar target. Other local banks are considering raising bonds outside Israel as well, the people said.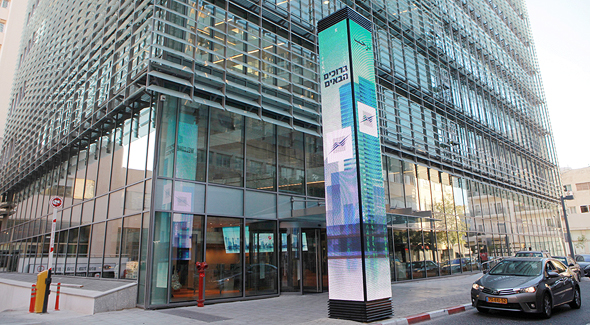 The Tel Aviv Stock Exchange. Photo: Orel Cohen
To date, Israeli banks have raised bonds exclusively from Israeli investors, mostly institutional. But recent issuances led some of the banks' administrative leadership to worry the amounts raised were too big for the local market. This is especially true when it comes to CoCos, which are high-yield but riskier than regular bonds, as they are not guaranteed to be converted to equity or fully redeemed.
While Leumi and Discount could list the CoCos on local platforms abroad, they are expected to choose to list them in Israel in order to avoid being affected by local legalization. The banks assisting with the process stated costs abroad will be 0.25% lower than in Israel, and the duration is expected to be seven years, longer than most CoCos issued in Israel, according to the people familiar with the matter.
In Israel, CoCos are less high-yield than abroad, as the local banks have cash reserves above the demands of the local regulator and thus pose less risk. Bank Mizrahi-Tefahot was the first Israeli bank to issue CoCos, raising NIS 417 million in private issuance in private issuance. To date, Israeli banks raised NIS 9.3 billion ($2.63 billion in current conversion rates) via CoCos.
The Israeli Capital Markets, Insurance, and Savings Division did not implement formal regulation for Israeli institutions looking to invest in CoCos, but many have decided to self-regulate and set a limit for themselves due to the higher risks involved. A large part of Israel's institutional investors is approaching that limit, perhaps also leading local banks to expand to the international market.