Beyond Meat's Burger Is Currently Beyond Reach in Israeli Restaurants
Hungry vegans who rushed to their favorite burger joints in recent weeks were disappointed to find the popular dish has completely run out
With a butter shortage affecting Israeli supermarkets still looming, the country now faces a potentially bigger crisis: a nationwide shortage in Beyond Meat's vegan burgers.

Hungry vegans who rushed to their favorite burger joints in recent weeks were disappointed to find the popular dish has completely run out. One customer told Calcalist that at first, restaurants tackled the shortage by hiking the price of the prized patty, but now Beyond Meat is simply impossible to locate.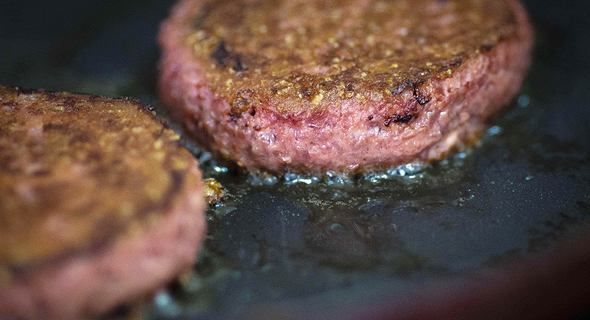 Beyond Meat's burger patties. Photo: AFP

Supply has run out throughout Israel, a spokesperson for local burger restaurant chain Moses said. A restaurant in northern Israel told Calcalist it has taken the item off the menu and blamed the deficit on the importer and on a backlog in Israeli ports caused by delays due to the Jewish high holidays that ended last month. The backlog is also considered one of the causes of a shortage in mayonnaise in McDonald's branches across the country as well as the aforementioned butter shortage.

A spokesperson for Kaya International Import & Distribution Ltd., the importer and distributor of Beyond Meat to Israel, confirmed the shortage and stated it is due to the backlog at the ports, where a container carrying the product has been hauled since early October. The spokesperson also cited the growing demand for the product, with more restaurants looking to add it to their menus.