Analysis
Gett's NYC Failure Could Leave it Out of the Exchanges
Gett is getting farther away from unicorn status and an IPO, at least partly due to its failed investment in New York-based Juno. Since its launch in 2010, Gett has raised $800 million; for shareholders to see a return on their investments, the company will need to list at a much higher valuation
Where is ride-hailing app developer Gett's public prospectus? Based on previous statements by founder and CEO Dave Waiser, potential investors should have already gotten a peak at the document, or it should have at least been in the final stages of being approved by lawyers and investment bankers. Israeli professionals who were originally tapped to take part in Gett's listing process told Calcalist on condition of anonymity that no progress has been made beyond Waiser's declarations.

In May, when Gett announced the raising of $120 million in debt financing and equity, Waiser said it would be the company's last private funding before an initial public offering in the first quarter of 2020. The company's equity story, that is, the main narrative presented to potential investors, was Gett finally moving to profitability.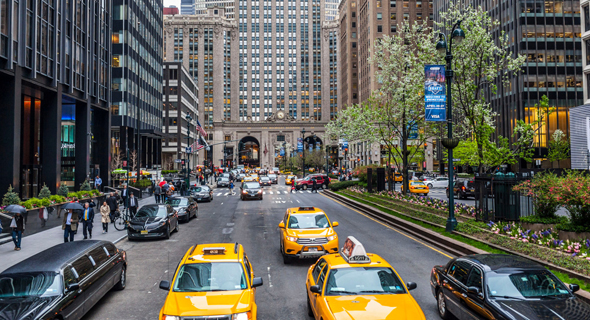 Taxis in New York. Photo: Getty Images

Now, it seems that Gett's dream to go public at a valuation of over $1 billion will remain in the realm of a declaration. One person familiar with Gett's financials told Calcalist on condition of anonymity that a public prospectus could do to Gett what it now so famously did to WeWork.

On Monday, Gett admitted defeat in the U.S. market, announcing it will be shutting down subsidiary Juno, two and a half years after paying $200 million for it. As part of Gett's exit from the U.S., all Juno clients will be transferred over to Lyft following a new agreement between the two. Going forward, Juno's operations will be based on three markets instead of four: Israel, Russia, and the U.K. Will that be enough to justify a valuation of over $1 billion?

Stockholm-listed venture capital firm Vostok New Ventures Ltd., which holds a stake in Gett, did not alter the previous valuation it gave Gett in its books for the third quarter of 2019, keeping it at $1.4 billion. If at the end of the second quarter, though, the firm held a shareholder meeting where Waiser presented Gett's pivot to the corporate sector, Vostok kept mum now. The firm is also biting it nails, waiting to see if Gett can live up to its promise of moving to profitability at the end of the fourth quarter of 2019.

Since its establishment in 2010, Gett has raised $800 million from the likes of Access Industries, Baring Vostok Capital Partners, and Da Vinci Capital. This means that for shareholders to see a return on their investments, the company will need to list at a much higher valuation. The problem is that so far, Gett's operations do not support such a high valuation.

Russia: a focus on the corporate sector instead of on the private sector

One of Gett's most significant markets is Russia, considered the company's main market until recently. But Gett has been having some troubles there as well. A month ago, the company announced it will be replacing the head of its Russian operations, less than a year after he stepped in. The new CEO is supposed to help Gett pivot to the corporate market, due to the company losing ground in the private sector.

As a result, Gett seems to be considering a similar move to the one it made in the U.S. market. During the summer, the company negotiated with two companies in Russia. The first talks were held with Russian internet company Mail.Ru, which owns stock at several taxi companies, but the company valued Gett's local operations at only $150 million. More significant talks were held with Russian mobile network operator MTS, which valued Gett's operations at between $450 million and $600 million, but so far they did not end with a deal either.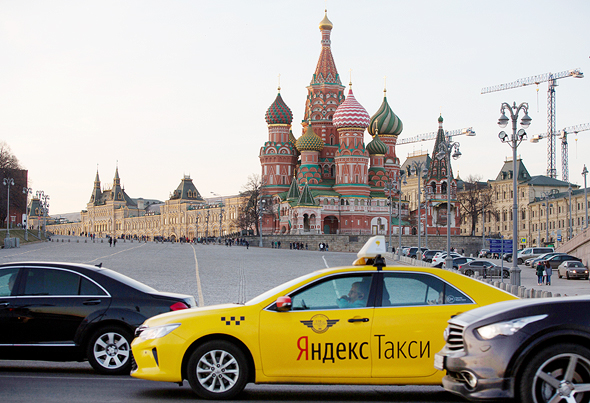 a Yandex taxi in Russia. Photo: Bloomberg

To make matters worse, Russian multinational technology company Yandex NV, which is the biggest local taxi player with a 27% market share, just closed a deal with the second largest local company, Vezet Group, which has a 12% market share according to official data. According to Russian government data, an international company called Maxin Taxi has a 9% share, Gett controls 5%, and then local operator Citymobil Taxi, with 1%. In 2017, Gett held a double-digit market share in Russia. The Yandex-Vezet deal has yet to close—partly because Gett appealed to Russia's Federal Antimonopoly Service against the merger. Though a decision is yet to be made, Yandex recently submitted the merger papers, stating the two companies' combined market share would remain under 50%.

Yandex Taxi, which operates in several former Soviet Union countries and also in Israel, achieved profit before tax after its earnings doubled in the first nine months of 2019 year-over-year, to $400 million. A rough calculation based on Yandex's revenues and Gett's market share put Gett's annual revenues from its Russian operations at approximately $100 million, meaning Mail.Ru's offer was realistic considering Gett's situation.

The U.K.: Gett reported a move to profitability

London was supposed to be one of Gett's growth engines. An analysis released by British bank HSBC Bank PLC last year estimated the city and New York combined generated half of Gett's total revenues. In September, Gett Israel CEO Mark Oun stated the company's U.K. operations were now profitable, leading Gett to consider London as a possibility for its IPO.

Israel: Yandex's Yango continues to close the gap

Up until one year ago, Gett was the undisputed king of the Israeli ride-hailing market. But in recent months Yandex's Yango Taxi made its way to Israel and started taking over Gett's home turf. While Gett still has a significant advantage over Yango, people in the local taxi industry have told Calcalist that things are heating up. Yango, which at first struggled to recruit personnel, now has a few thousand drivers, the people said. While that is still low compared to Gett's 10,000 drivers, Yango is growing fast and Gett is taking aggressive steps to combat it.

Taxi stations who start working with Yango, for example, receive an ultimatum of "us or them" from Gett, the people said, and drivers who add a Yango branding to their vehicle receive notice that they have been moved lower on Gett's prioritization list. Last week, Yango announced it is expanding to Israel's north and south after operating for a time only in the country's central region, though the company said the expansion was pre-planned and not a response to market conditions.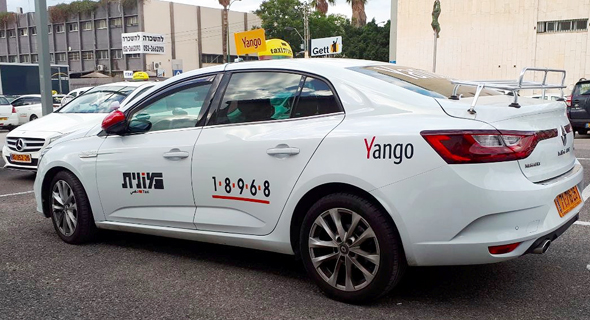 A Yango taxi in Israel. Photo: Meir Orbach

One of the things working in Gett's favor is Yandex's Russian connection. Yandex's stock, which trades in both New York and Moscow, took a hit lately as the Russian regime is currently promoting legalization to increase its hold on local tech companies. For Yandex, its taxi operations are just one arm and its main businesses are Russia's most popular search engine and autonomous vehicles. On Monday, Yandex announced a plan to establish a Public Interest Fund within the company, which allegedly will not be connected to the controlling shareholders or the government.

Even if Gett can halt Yango's rise in Israel, it would still remain its only growing and flourishing market. And that, no matter how successful, cannot justify a price tag of over $1 billion for the company.

The dashed American dream: this is how Gett got lost in the streets of New York

Trying for the New York market may be Gett's biggest mistake when it comes to its global expansion plans. New York is a city unlike any other. While it has the greatest taxi traffic in the world, it also offers the most local competition and regulation. Local rivals in the form of the city's traditional yellow taxis, Uber, and Lyft, and from the city itself that piles on the red tape, makes breaking into the local market an almost impossible challenge for companies that do not have deep enough pockets.

Gett, which felt that hardship fast, quickly bought Juno, believing the company's different business model will help Gett take on the local giants. It was quickly proven wrong. Gett has been trying to sell Juno since 2018, not so long after it made the acquisition. U.S. media has been full of quotes from industry leaders who claimed the company had nothing to its name except a list of drivers and passengers. Eventually, Gett failed to sell Juno and closed it earlier this week, shutting the door on its failed New York venture.

The failure in New York claimed financial resources Gett just did not have, and administrative consideration that meant Gett was not paying as much attention to other markets that were much more feasible. Gett made a deliberate decision to focus on markets where it already had operations—New York, Russia, London, and Israel—and not enter new markets, and that decision is extracting a significant price now that the company finds itself with only three markets left.

On the other hand, Gett has realized it has much power in the corporate world. The company states it serves some 15,000 businesses worldwide. That is why Gett has announced earlier this week a partnership with Lyft, which has no corporate business but does have operations in 650 U.S. cities and a desire for a business that could push it towards profitability. The collaboration between the two will enable every corporate client of Gett to order a taxi from the company and receive service from Lyft as of the beginning of 2020.

For Gett, this is an opportunity to offer service across the U.S. without investing money it does not have. For Lyft, it is an opportunity to gain a foothold outside its current niche and more work for its drivers. Following the announcement of the partnership, Lyft's stock jumped while rival Uber fell. Lyft's market capitalization gained another $650 million, a small sum indeed compared to the millions it infused into Gett.

Gett could not be reached for comment.