WeWork Continues Downward Spiral With $1.25 Billion in Losses for 3Q 2019
The New York Times and Bloomberg first reported the company has more than doubled its losses year-over-year
Spiraling-out-of-control coworking space company WeWork lost $1.25 billion in the third quarter of 2019, more than double its $497 million in losses recorded during the same period last year, The New York Times and Bloomberg reported Wednesday. Several hours later, Reuters reported additional details, stating WeWork, which rebranded as the We Company earlier this year ahead of its disastrous attempt to go public, opened 97 new sites and expanded to 16 additional cities during the quarter, its biggest quarterly expansion to date.

The report is the most recent in a weeks-long incessant slew of news about the company, which has been plagued by the consequences of its failed IPO, change in management, and criticism of its business practices by backers and shareholders.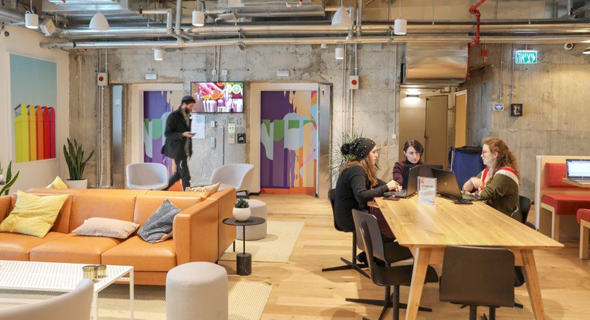 A WeWork site in Jerusalem. Photo: Eyal Marilus

On Monday, the Financial Times reported that WeWork could be getting another colorful CEO to fill the gap left by ousted leader Adam Neuman, and that the company was talking to John Legere, the spirited boss of T-Mobile USA, who may step into Neumann's big shoes.

Last week, WeWork posted to its website a detailed investor presentation from mid-October outlining its plans to help the company bounce back on its feet. The presentation detailed several steps in its recovery plan, mainly a renewed focus on its core activity as a shared-office company, the closure of non-core departments and subsidiaries, and a significant downsizing in personnel.

The presentation was published amidst reports of global layoffs from WeWork and its subsidiaries, most recently in New York. Last week, Calcalist reported, citing one person familiar with the matter who spoke on condition of anonymity, that about half the employees of New York-based WeWork subsidiary Flatiron School Inc., which develops online coding courses, were being called in for meetings and handed their notices.

Calcalist reported Sunday that, in another move made in accordance with the plan, WeWork has backed away from plans to set up a specialized coworking space for musicians in Tel Aviv.

WeWork's conduct has had a tremendous effect on the market as well as on stakeholders and at least one has already decided to sue. In what some feel is the first of many, last week, a former WeWork employee filed a lawsuit against the company, Neumann, and SoftBank. In her lawsuit, proposed as a class-action suit, Natalie Sojka claimed Neumann's cushy $1.7 billion exit plan was unfair to minority shareholders who are faced with significantly depreciated value, while Neumann and SoftBank have profited. The lawsuit was first reported Friday by The Information.