Israel Will See Less Rain, Higher Temperatures by 2050
Less rainfall, more hot days and nights, and rising sea levels are some of the risks the country will face by the end of the century, according to the Israeli Ministry of Environmental Protection
The average temperature in Israel will increase by 1.2 degrees Celsius by the end of 2050. Rainfall will decrease by 15%-25% by the end of the century. The Mediterranean Sea levels will gradually rise. There will be more hot days and nights and fewer cold ones. Those are some of the risks the Israeli Ministry of Environmental Protection predicts the country will face in the upcoming decades as part of climate change.

The ministry is set to present its conclusions on Wednesday, during the 2019 United Nations Framework Convention on Climate Change held in Madrid between December 2 and December 13.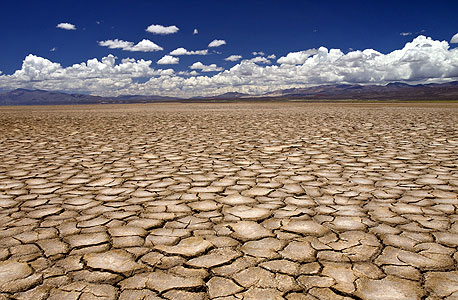 Desert (illustration). Photo: Shutterstock

Somewhat surprisingly, Israel's representative is Israeli Ministry of Energy Yuval Steinitz, who will be joined by personnel from his ministry, the environmental protection ministry, and other government representatives. When asked why Steinitz was the representative instead of environmental protection minister Ze'ev Elkin, a spokesperson said Elkin was a member of the coalition negotiation team and could not leave, and that the two ministries collaborate extensively.

According to the environmental protection ministry, a July 2018 government decision mandated the establishment of an administrative division headed by the ministry that includes representatives from 35 bodies and agencies. The division was tasked with creating an adaptational national strategy that will be implemented across all ministries to ensure Israel will be prepared to face the changing global climate.

The main trends identified, as previously stated, are "warmer, dryer, more extreme." Those include risks of water sources drying out and extreme weather phenomenons. According to the environmental protection ministry, studies show temperature differences between open areas and city centers can reach as much as 9 degrees Celsius, and that the changing climate can play a major role in disease outbreaks, and also have a negative impact in the long-term on real productivity and work productivity. Estimates are that the climate crisis will cause the global economy to shrink by the end of the century, and Israel's economy with it, according to the ministry.

Israel has committed to several international frameworks on the subject, including the Paris Agreement, which deals with greenhouse-gas-emissions mitigation, adaptation, and finance. Israel is also committed to the Barcelona Convention for the Protection of the Marine Environment and the Coastal Region of the Mediterranean, though some critics claim Israel is lagging behind on climate legalization.