Interview
Pollution Violates the Public's Property Rights, Says Activist Robert F. Kennedy Jr.
Kennedy, a lawyer and environmental activist whose controversial views on vaccines and his own father's assassination often raise eyebrows, spoke to Calcalist during a recent visit to Israel
According to Robert F. Kennedy Jr., pollution is just a way to violate people's rights and invade public property. Kennedy, a lawyer and environmental activist whose controversial views on vaccinations and his own father's assassination often raise eyebrows, spoke to Calcalist during a recent visit to Israel.

As part of his environmental activity, Kennedy previously took on giants like Exxon Mobil Corp. and General Electric for their part in polluting New York's Hudson River. When these companies contaminated the Hudson, they violated the New York State Constitution that determines the fish in the river belong to the public, he said. The public lost its property because of the chemicals these companies dumped into the water, he added. "Three of my kids have asthma, and when coal power plants pollute the air, they are practically stealing the air my children own, to benefit their shareholders," he said.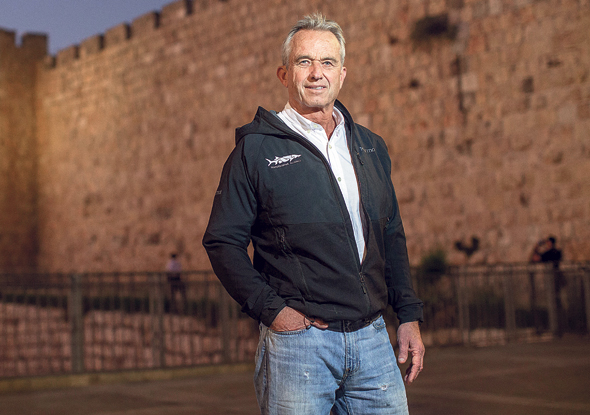 Robert F. Kennedy Jr. Photo: Ohad Zwigenberg

Kennedy arrived in Israel to bring the Jordan River under the wing of his environmental organization Waterkeeper Alliance, which serves as an umbrella organization for around 350 organizations worldwide that strive for clean water sources. To help promote a cleaner Jordan River, Waterkeeper Alliance has partnered with Israeli-Palestinian-Jordanian organization EcoPeace Middle East.

Due to its location on the border between three states, 95% of all the water that flows through the Jordan River is being taken by Israel, Syria, and Jordan, with each trying to grab as much of it as it can, Gidon Bromberg, director of Israel at EcoPeace Middle East, told Calcalist. "The Lower Jordan River has become a sewage canal and wildlife and plants have been severely affected," he explained.

Kennedy started his career at the Manhattan District Attorney's Office before moving on to the private sector to use his legal skills for environmental activism. During his career, Kennedy has spearheaded numerous litigations against big corporations, forcing them to invest billions of dollars to repair the environmental damage they caused. For over three decades, Kennedy served as a senior attorney for environmental advocacy group the Natural Resources Defense Council and was a board member and chief prosecuting attorney for Riverkeeper, a nonprofit dedicated to protecting the Hudson River.

According to Kennedy, he inherited his passion for river protection from his father who used to take the family kayaking. His father taught him to treat water as a safety net for society, he said. Everyone should have access to water and should be able to swim or fish freely without having to worry about poisoning themselves or their loved ones, he added.

When he first took on the Hudson River, it was considered a joke, Kennedy said, as the water was dead for miles on end. Through litigation, he had managed to squeeze $5 billion off of contaminating companies in order to bring it back to life and it is now home to an array of endangered fish species.

Polluting companies are free to privatize public property because governments are collaborating with them, he said. Kennedy accuses U.S. President Donald Trump of trying to undo all green legislation passed since 1970, saying he used to think George W. Bush was the least environmental president "but Trump is worse." According to Kennedy, he is in the midst of numerous cases that are still ongoing and Trump is "on the wrong side of all of them."

But Trump did not fall out of the sky, he is just a symptom of a process that has been going on for decades in the U.S., in which the middle class is deteriorating and the environmental protections are being pushed aside in favor of corporate interest, Kennedy said. He believes democracy is currently being replaced by plutocracy, a form of government in which the rich rule. The environment is suffering because without a strong democracy there is no environmental protection, Kennedy said. If the wealthy take over they will steal the public's air and water, that is why it is crucial to prevent corporate funds from getting into the political system and affecting it, he added.

Trump looks at the earth like a company in liquidation and promotes a grab-all-you-can-get policy, Kennedy said, adding that this policy helps make a few billionaires while impoverishing everyone else and polluting the environment. Our children are the ones who will pay the price in polluted landscapes, deteriorated health, and massive rehabilitation costs, he said.

The third child of U.S. Senator Robbert F. Kennedy and the nephew of President John F. Kennedy, both assassinated while in office, Kennedy is no stranger to politics. Kennedy remembers both his uncle and his father's presidential campaigns from when he was a child. He also remembers the moment on June 5, 1968, when he was awakened at dawn and brought to his family home where he was told his father had been shot at a campaign rally at a hotel in California.

To this day, Kennedy believes both his father and his uncle's assassinations were the result of a CIA conspiracy. He believes the conspiracy against his family goes as far as the 1930s, when his grandfather, Joseph P. Kennedy worked for the U.S. Securities and Exchange Commission (SEC). According to him, his grandfather headed a committee that recommended the CIA be dismantled, pushing the agency to paint a target on the backs of the entire family.

Kennedy went as far as meeting with Sirhan Bishara Sirhan, the Palestinian man convicted of his father's murder, who has been sentenced to life in prison. Kennedy believes the crime scene findings do not align with Sirhan being the killer. According to Kennedy, his father was killed by four shots from behind and forensics prove the barrel of the gun touched his person, while Sirhan was in front of him and at a distance. Sirhan used all eight of his gun's bullets but 13 separate shots were heard at the scene, Kennedy said.

The man he believes killed his father is Thane Eugene Cesar, an armed security guard at the hotel who died several months ago in the Philippines. Cesar was seen by witnesses pulling out his gun but was never interrogated, Kennedy said. Kennedy is working to reopen the case together with Paul Schrade, who was a part of his father's campaign team and was among those wounded by Sirhan on the night of the assassination. No serious investigation was done, it was all a coverup, he said. Referring to his uncle's assassination, Kennedy said he believes Lee Harvey Oswald did not act alone.

Surprisingly enough, Kennedy's zeal for conspiracy theories is not his most controversial stance. In recent years, 65-year-old Kennedy has focused much of his time to fight against vaccinations and fluorination. Kennedy rejects his label as an anti-vaxxer, stating he had vaccinated all of his six children but retains his belief, contrary to the scientific consensus, that vaccines cause autism and food allergies.

Most of the reactions he gets for his activism in this field are extremely hostile, Kennedy said. Recently, in addition to the medical community and the media, Kennedy also faced public criticism from members of his own family. Earlier this year, two of his siblings—Kathleen Kennedy Townsend and Joseph P. Kennedy II—together with his niece Maeve Kennedy McKean, wrote an article on Politico Magazine denouncing his views and saying he is "tragically wrong about vaccines."

His sentiments on vaccines nearly led him to collaborate with Trump, who he vocally opposes on every other stance. Kennedy says that when Trump first came to office he was asked to head a committee that would examine the testing processes of vaccines. Kennedy took the job but Trump backed down, he said, blaming the shift on people from the pharma and health industries, which Trump let into his administration.