Israeli Equity Crowdfunding Company Together to Sell Gett Stock From Employees
Around $1.7 million worth of Gett securities will be sold on the platform, at a 20%-30% discount on the company's $1.4 billion valuation at its latest round
Israeli equity crowdfunding company Together will be selling $1.7 million worth of employee securities from Israeli taxi-hailing company Gett Inc., according to Together Chairman Shuki Cohen Sharet. The securities will be offered at a discount of 20%-30% on Gett's latest valuation of $1.4 billion, achieved in its June 2018 round, and the minimal investment will stand at $20,000. NIS 6 million (approximately $1.74 million) is the maximum amount a company is allowed to raise from the non-accredited investors in a year, according to Israeli law.

Crowdfunding platforms, which are a relatively new alternative to investing in companies via the stock market, were regulated in Israel in 2015 but the law came into effect only in December 2017. It enables crowdfunding companies to act as underwriters for the public, letting non-accredited investors participate in investments that are usually only open to large venture capital funds.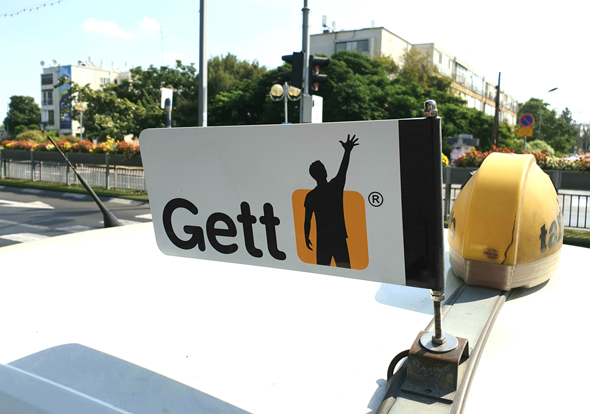 A Gett taxi. Photo: Shutterstock

Founded in 2018, Together limited investments in its portfolio companies to 35 accredited investors until recently, but has now opened the platform to the public. To date, the platform saw its companies raise a few million shekels at most, as they were small startups valued at several dozen millions of dollars each.

Together wants to make interesting products like unicorn companies accessible to the public, Cohen Sharet told Calcalist. "The securities will be acquired from former and current employees or from venture capital firms that are looking to realize some of their investment. For example, a senior employee that got $10 million worth of options and is looking to liquidate a part now. But as the stock is not tradable we tell him to sell at a significant discount. After Gett we'll do the same for other unicorns."

Gett was founded in 2010 by CEO Dave Waiser and Roi More. The company offers its services in about 120 cities, including Tel Aviv, London, and Moscow. The company's latest funding round was in June 2018, when it raised $80 million from investors including Volkswagen, Access Industries, and private equity firms Baring Vistok and MCI. In May, the company announced it secured $120 million in debt financing according to a valuation of $1.5 billion. Gett raised $790 million in equity to date.

Gett is struggling. On the one hand, companies like Uber and Lyft went public at very high valuations, only to drop and continue losing money. On the other hand, competition is hard, even on Gett's home turf Israel, thanks to the entrance of rival Yango. Market players in Israel are skeptical about Gett's ability to raise further funds and its statements regarding its move to profitability.

For Together's users, investing in Gett is, therefore, a somewhat risky bet. If the company will make an initial public offering at a valuation similar to Uber and Lyft, they could see a significant profit off their discounted stock. If the IPO tanks, however, they could get stuck with untradable securities, or even lose out altogether if Gett loses the global competition before it even goes public.