Analysis
IFF's Frutarom Dream Hits Reality, Hard
A little over a year after IFF's $6.4 billion acquisition of Israel-based Frutarom, its annual results for 2019 fail to deliver desired boost in sales
A little over a year since its multi-billion acquisition of Frutarom Industries Ltd., annual results for International Flavors & Fragrances Inc. (IFF) show a disappointing outcome. On Wednesday, the NYSE and Tel Aviv-listed company published its fourth quarter and annual reports for 2019. The earnings call its leadership team held with analysts that day provided a rare glimpse into what happens to an Israeli company after the exit party is over.

In October 2018, IFF paid $6.4 billion for the remaining shares of Israel-headquartered flavor and fragrance company Frutarom in a deal that valued the latter at $7.1 billion. IFF stated at the time that the deal will help it deepen its hold in the flavors market and accelerate its growth rate. The company committed to keeping Frutarom's Israeli sites open, and also decided to dually list on the Tel Aviv Stock Exchange as Frutarom delisted.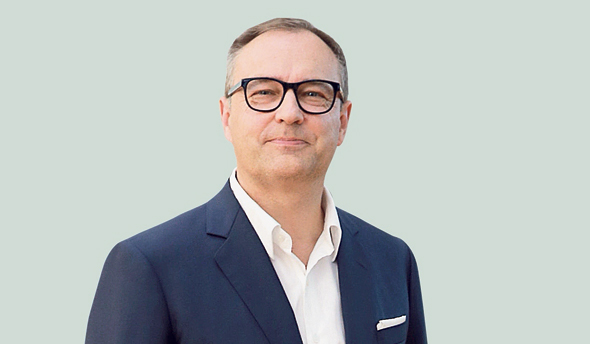 IFF CEO Andreas Fibig. Photo: Orel Cohen

The first full fiscal year of a consolidated report for IFF and Frutarom shows that the honeymoon phase has ended. IFF CEO Andreas Fibig tried to emphasize the "synergy" between the two companies, which created a $50 million cut in annual operating costs, but the remaining numbers overshadowed this silver lining.

The crack between IFF and Frutarom first came to light six months ago, when the former announced that during the integration process it was "made aware of allegations that two Frutarom businesses operating principally in Russia and Ukraine made improper payments to representatives of a number of customers," and that key members of Frutarom's senior management were aware of it. Following the findings, both companies demanded former Frutarom CEO president Ori Yehudai, one of the key people implicated, return a $20 million bonus he received when the deal closed.

During the earnings call, Fibig off-handedly stated the matter was done and dealt with, but did not provide more details. In the reports, IFF stated it had investigated the allegations and they were substantiated, prompting the company to take appropriate remedial actions, including replacing senior management in relevant locations, and scrutinizing "at-risk" locations for similar problems, though none were discovered. In the call, Fibig stated that the legal side of the issue was over and the company is now managing the business side, but did not reveal if IFF was required to pay a fine, only repeated statements that the investigations resulted in total affected sales that represented less than 1% of IFF's consolidated net sales for 2019.

But the improper payments seem to be the least of IFF's worries regarding the merger. According to several people familiar with the matter who spoke to Calcalist on condition of anonymity, most of Frutarom's key management in Israel has left the company once the year-long employee retention agreements ended. Among the departing executives are Yoni Glickman, former president of Frutarom's natural product solution; former chief financial officer Alon Granot; and former executive vice president Amos Anatot. Yehudai himself left the company shortly after the completion of the merger.

IFF did not conceal the resignations, instead rebranding them as "aligned talent management." When questioned by Wall Street analysts about the matter, Fibig stated the company did not lose key personnel it did not want to lose.

Regardless of the loss of its Israeli management, a Frutarum subsidiary called Citra Source took a significant hit in 2019 after several customers jumped ship. Frutarom's numbers, therefore, were lower than the original forecasts IFF provided. Market expectations that Frutarom will help IFF accelerate its growth rate were quashed as the subsidiary contributed sales of $1.5 billion—minuscule growth compared to 2018.

According to Fibig, barring one-time events, Frutarom's sales would have recorded 6% growth. The company hopes things will settle down ahead of the second quarter of 2020, resulting in mid-level single digit growth, he said. But the truth is that as of the first quarter of 2020 it will become almost impossible to calculate Frutarom's exact contribution to IFF, as its results will no longer be presented separately but will instead be reported as part of IFF's taste business unit.

Barring good news on the growth front, IFF has tried to shift focus to expenses and profit, or, as M&A people like to call it, synergy. In its annual reports, IFF disclosed for the first time the closure of 10 Frutarom sites, and its intention to close 12 additional sites globally. Following a reorganization process for both manufacturing and acquisitions, the company achieved a 20% reduction in expenses. Despite these steps, IFF failed to coax a higher profitability from Frutarum's activity. Frutarom contributed net profit of $286 million, but only $127 million including amortization.

The main—and almost sole—high point of the merger is IFF's net cash provided by operating activities, which jumped 60% in 2019 to $698.9 million annually, an increase Fibig attributed mostly to Frutarom.

IFF, it seems, learned well from its challenging merger with Frutarom; for the DuPont acquisition, the company appointed two integration executive vice presidents.