Coronavirus
Israel's Supreme Court Allows Police to Surveil Civilian Phones to Enforce Quarantine Regulations
Police will only be allowed to gather sporadic real-time location information to make sure those who have the virus or were in risk of exposure remain in their designated quarantine locations
Israel's Supreme Court ruled Tuesday, effective immediately, the Israeli police can access civilians' location data without a warrant to enforce coronavirus (Covid-19) quarantine regulations. Last week, the court ruled to freeze the practice, which was put in place in a hasty emergency legislation procedure, bypassing the Israeli parliament (the Knesset).

The Supreme Court's decision to allow police surveillance came after the Israeli government agreed to put the new regulation up for a future vote in parliament. The government also published the bill, the full terms of which were not previously released, to the review of the public.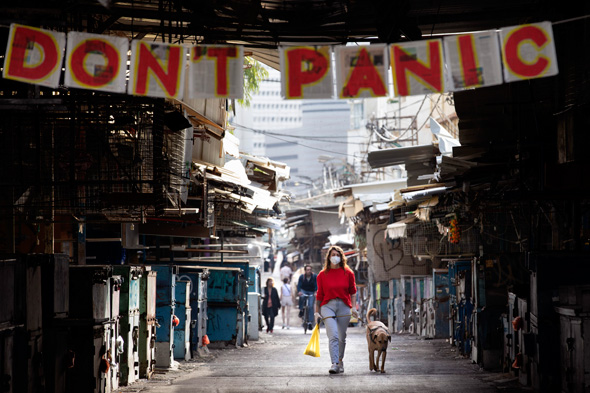 Carmel Market in Tel Aviv. Photo: AP

According to the police's answer to the Supreme Court, the police will only gain access to the phone locations of people required to be in quarantine—meaning, people who were found positive for Covid-19, were exposed to a diagnosed patients 14-days prior to their diagnosis, or have recently returned to Israel from abroad—sporadically in real-time without receiving historical location data. The person being surveilled will be selected randomly, the information will not be transmitted to Israel's Ministry of Health, as was first intended, and the police will be required to report on this activity to Israel's Attorney General Avichai Mandelblit once every three days.

Access to the data gathered from mobile telecommunications companies will be limited to a select number of police officers. If no violation is found the data will be deleted from the police database within 90 days of the expiration of the regulation, which has yet to be specified.

The court also asked the government to reexamine its need for another regulation that grants the Israel Security Agency, also known by its Hebrew acronym Shin Bet, the authority to collect information gathered through unspecified technological means from the phones of civilians in order to identify people who have been in close contact with confirmed patients. This request was submitted after the health ministry released on Sunday a mobile app that performs a similar function voluntarily and without compromising privacy.