March Madness: VC Launches Online Start Up Competition
Ground Up Ventures is launching a competition for startups, the chosen companies will pitch to a live audience of global investors via video
The coronavirus (Covid-19) pandemic has put the world on lockdown, but these difficult times are also spurring innovation. With no face-to-face meetings, no startup conferences, and venture capital firms adjusting to working from home, Ground Up Ventures, an early-stage venture capital firm, has launched a startup competition it has dubbed March Madness.

Unlike its namesake U.S. college basketball tournament, this competition will see companies that have already raised between $200,000 and $2 million pitch their technology to a panel of venture capitalists from the U.S. and Israel. The chosen companies will pitch to a live audience of investors and participants from across the globe via video. Among the Israeli judges are investors Amit Karp of Bessemer Venture Partners, Yonatan Machado of Samsung NEXT, and Shiran Shalev of Battery Ventures.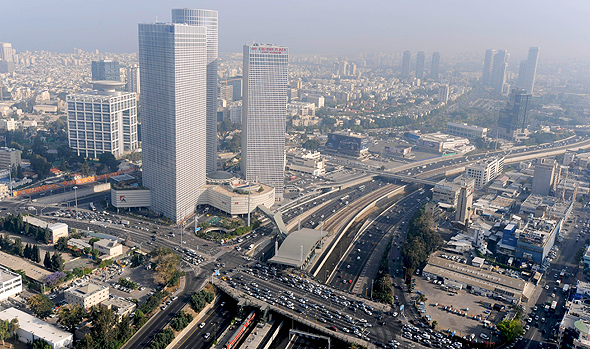 Tel Aviv 's skyline. Photo: Bloomberg

According to the organizers, hundreds of startups have already applied, with the March 27 deadline for submissions fast approaching. The competition will begin on April 1 and will take place over multiple days in April.

"The March Madness startup competition is the perfect opportunity to give back to the founder community," said David Stark, founding partner at Ground Up Ventures. "While many founders quickly adapt to a new reality, we are excited to give them the opportunity to get in front of some of the world's best investors all from the comfort of their own home. For the many people at home who are looking for great content to watch and are already bored with what's on Netflix, tuning into March Madness will be like watching a fun combination of Shark Tank and The Voice."

To date, more than 35% of the startups that applied to pitch come from Israel. These include Trusstor Technologies Ltd., which integrates real-time location systems, smart equipment, and artificial intelligence in construction sites, Lynx.MD, a platform for running collaborative data projects within healthcare organizations, and Buywith, an online broadcasting shopping platform that brings together brands with influencers and their followers for social shopping online.

Ground Up Ventures team will select 32 startups to advance to the next stage of the competition. The chosen companies will pitch to a live audience of investors and participants from across the globe via video. The 32 companies will be divided into four groups of eight, with one startup selected from each group to advance to the Final Four. The audience will have the ability to vote-in two additional startups to compete in the final event. The final broadcast will include an audience of up to 500 potential investors and customers, and the winner will receive a $100,000 investment. Anyone interested in attending the online event as an audience member can apply until April 1.

"In times like this, one of the biggest challenges for startup companies is getting exposure to investors. March Madness turned this limitation into an amazing opportunity," said Omri Sorek, the founder and CEO of Trusstor.