Analysis
Coronavirus Threatens Shared E-Scooter Companies
Self-quarantine and lockdowns have reduced use of shared e-scooters. Bird let hundreds of employees go while Lime is looking to raise funding at a valuation of only $400 million. Will e-scooters vanish from our streets as quickly as they arrived?
There are two notable intersections between shared e-scooter companies like Bird Rides Inc. and Lime and video conferencing companies like Zoom Video Communications Inc. The first is that Zoom today is what Bird and Lime were in 2018: the hottest new trend everyone wants to adopt and invest in. The second is that just last week, Bird's management used Zoom to notify 400 of its employees that they were being let go due to losses accrued following the coronavirus (Covid-19) pandemic.

In many ways, this anecdote illustrates the everyday changes brought on by the outbreak. Some of the impact is temporary, but Bird's massive layoffs are a harbinger of the mortal threat the shared e-scooter industry is facing. In fact, according to U.S. news outlet The Information, Lime is now preparing to raise emergency funding at a company valuation of just $400 million, a huge drop from the $2.4 billion valuation it achieved for its previous round, held in February 2019.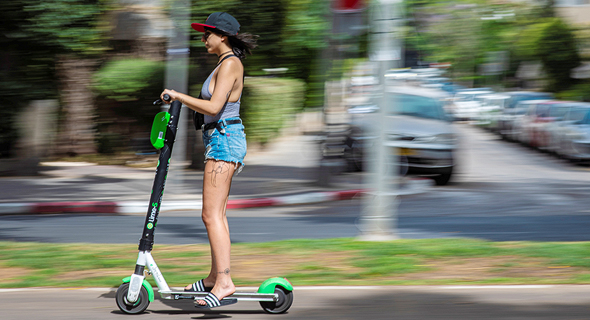 Lime e-scooter in Tel Aviv. Photo: Yuvaal Chen

The key question is, what kind of world will we emerge to when the outbreak is finally over? Will people even want to use a vehicle touched by hundreds of hands and sneezed on by dozens of other people? These concerns are relevant to many aspects of the sharing economy. They are relevant to coworking spaces, at a time when employers send people to work from home. They are relevant to Airbnb, which planned its initial public offering for a year and is now looking to raise funding from the private market instead. Airbnb has recently stopped its marketing plans, slashed the salaries of its senior executives, and put employee recruitment on hold. Will people trust Airbnb hosts, who are unregulated, to sanitize apartments after the pandemic is over?

The problem is especially prominent for e-scooters, however, as the sector's business model was called into question even before coronavirus. A month ago, investors were still looking for fast growth over profit, and companies knew that even if they burned through their money, a new funding round was just around the corner. Now, as both users and investors vanish, they might just be seeing the end of the road.

E-scooter companies have reached the current crisis after having raised $2 billion in total, but Lime's case shows how quickly that money goes. According to The Information, out of $310 million the company raised to date, it only has between $50 million and $70 million left. The company is estimated to have incurred losses of around $300 million in 2019, and it is likely that Bird, which before the layoffs employed double the people, lost a similar sum or worse. In the first quarter of 2019 alone, Bird reported losses of $100 million, but founder and CEO Travis VanderZanden said at the time that it was an unusual loss resulting from one-off expenses.

These companies have the same questionable business model: each e-scooter costs the company on average $375, and makes it $3.25 a day, meaning it starts being profitable only after 115 days. But most e-scooters are not durable enough to survive that long, meaning companies will need to cut operating costs from 80% of revenue to 50%. The main expense of these companies, after payment for charging, is regulation—an expense that grew substantially over the past year as more and more cities tried to increase regulation to cut down on accidents.

In the past month, as the coronavirus spread across the globe, many of the e-scooter companies collected their vehicles off the streets in Europe and the U.S. Bird and Berlin-based Wind, operated by BYKE Mobility GmbH, are still deployed in Israel, but Lime has collected its vehicles and as of the past week operates only in South Korea. Another company in the sector, which doesn't operate in Israel, is Uber-owned Jump, which has also collected its e-scooters and e-bicycles from European and U.S. cities.

On the one hand, putting a stop to expansion plans and collecting the scooters could slow down the rate at which these companies burn through their money, providing them with some breathing room. But what about the longer term? The coronavirus crisis has created a new reality of working and learning from home. Even when students return to their campuses and employees return to their office buildings, remote work is unlikely to disappear, and it could cut down on demand for shared micro-transportation. Another threat is the price of e-scooters for private consumption: today, people can buy an e-scooter for as low as $400. In a world where people might worry about the germs left by previous users, many people might prefer to buy instead of rent.

In the end, it depends on how much e-scooter companies will manage to calm the public. They could benefit from quick and decisive action: at face value, individual e-scooters could be the ideal transportation mode in an era when people won't, or can't, take a bus. After New York City Mayor Bill de Blasio announced social distancing regulation, for example, the use of the city's shared bicycle service jumped 67% year-over-year.

In countries such as the Netherlands, Sweden, and Finland, e-scooter operators adjusted to the new reality by enabling the use of their vehicles for delivery and services for the elderly. The World Economic Forum is encouraging medical professionals to use e-scooters, touting them as an isolated, quick, and economic vehicle. The more companies make the effort to collaborate with regulators and adhere to strict hygiene measures, the better their odds of not just surviving the current crisis but coming out of it stronger.