Giant drone made by IAI for the German air force takes off for its maiden voyage
With a 26-meter wingspan (approximately 85 feet) it is one of the largest UAVs in the world, capable of carrying up to two tons
Two years after signing a deal to sell seven Heron TP UAVs produced by Israeli Aerospace Industries (IAI) and Airbus DS Airborne Solutions to the German air force, the first aircraft in the series achieved liftoff. The advanced drone took off on its maiden voyage from a military base in southern Israel with the German buyers forced to watch the moment via Zoom, due to Covid-19 restrictions.

The German Heron TP UAV is a medium-altitude, long-endurance, and multi-mission aircraft with a variety of payloads. It is based on the Israeli "Eitan" UAV, which is in operational use in the Israel Air Force. With a 26-meter wingspan (approximately 85 feet) it is one of the largest UAVs in the world, capable of carrying up to two tons. The AUV can be equipped with intelligence and monitoring equipment, communication gear, or electronic warfare technology. According to German media reports, there is a debate taking place on whether it should also be armed for attack missions.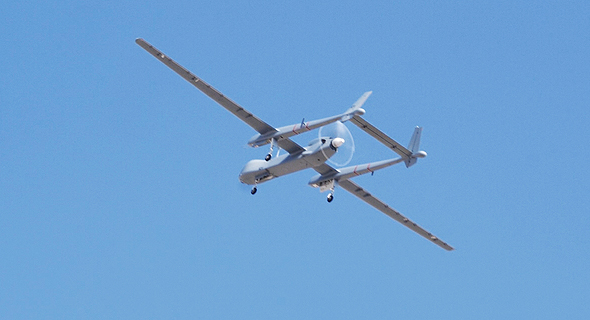 AIA and Airbus's Heron TP UAV. Photo: Ministry of Defense

The $600 million sale agreement was signed in June 2018. The agreement outlines the leasing of a number of UAVs as well as maintenance and training services. As such, German Air Force personnel are training together with their Israeli counterparts in an IAF base in central Israel. Due to the agreement's complexity, it is managed by the UAV Executive Office in the Directorate of Defense Research and Development (DDR&D) of the Israel Ministry of Defense, IAI and it's partner Airbus.

"This is a significant and historic phase in the strategic cooperation between Israel and Germany: an Israeli-developed UAV, produced for the German Air Force, took off for its first flight in Israeli skies," said the head of the UAV Executive Office in the Israel Ministry of Defense, whose name is forbidden for publication. "Despite the various challenges we faced, including those brought by the Corona pandemic, we are on schedule. This is thanks to the collaboration and great work done by elements of Germany and Israel's defense establishments."

Over the weekend, the U.S. administration announced that it would ease the restrictions imposed on UAV manufacturers on exports to foreign countries which have prevented the sale of UAVs capable of carrying more than 500kg of cargo over a distance of more than 300km. The lifting of the restrictions will increase competition to the Heron-TP from General Atomix's MQ-9 Reaper.