Israel cannabiz leader Seach plans to expand into Europe
Seach Medical Group produces optimized medical cannabis for a variety of ailments, including autism for which it is currently testing with 100 children and teens
The Israeli medical cannabis industry is on a roll.
Due to new regulations introduced by the Israeli government in 2018, the medical cannabis industry saw its demand double in just 12 months. One company, Seach Medical Group, has been a pioneer in the research, development, and distribution of medical cannabis and is ready to expand to European markets. It has plans to open a facility in Greece to penetrate the EU market with its products for medicinal use.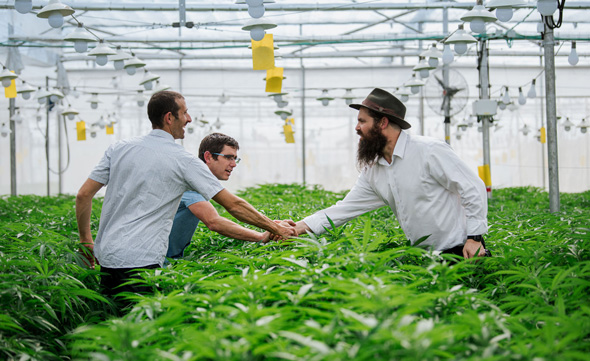 The Sarid Family. Photo: Tammy Bar Shay:

"Israel is one of the pioneers (for medical cannabis). Not the pioneer, but one of them for sure," Shay Avraham Sarid, Seach Medical Group's Co-Founder and CTO explained in an interview to Ctech on Monday. Sarid is one member of a multi-generational family of agricultural farmers from central Israel. When his father was diagnosed with Melanoma in 2002, the family started dedicating some of their plots to growing cannabis.

Fast forward a few years, and Seach Medical Group now accounts for 30% of all legal medical cannabis coming out of pharmacies in Israel. As regulations adjusted to mirror to the public's changing sentiment towards cannabis, so too did the development of medical cannabis technology.

When the 'New Regulation' came into effect in 2018, it was no longer possible for cannabis harvesters to sell directly to their clients, Sarid told CTech. Instead, it became a lot more convoluted and regulated. Seach grows the cannabis, but then there's the production facility that takes the plant, a dispensing agent, a delivery agent, and finally the doctor who can administer a dosage to a patient.

"Before the new regulation, as a patient you had to go through all the alternatives that the doctor could offer you except cannabis," Amichay Rab, Seach Medical Group's CFO explained. "Only after you tried everything and it didn't work could you try cannabis."

Once that clause was lifted by the Israeli Ministry of Health, the number of patients jumped from around 30,000 to 65,000. This created almost an immediate shortage of product for a growing user base.

According to Rab, Israeli medical appointees have a list of diseases that qualify a person to gain access to the drug. These include, but are not limited to, chronic pain, post-surgery pain, oncology, astrological, chrones, PTSD, Alzheimer's, Parkinson's, and Multiple Sclerosis.

If you have cancer, it's easy to get cannabis because science knows it can help with chemotherapy. In order to open up to the medical cannabis market for other ailments, Seach Medical Group does clinical trials on new diseases. "Because once you do it, and it works, we get the Ministry of Health approval to sell cannabis to the patients," Rab said.

The company is currently conducting a one-year trial with more than 100 autistic children and young adults aged 5-25, demonstrating how medical cannabis can help the children's well-being. The experiment is taking place at Assaf Harofeh Medical Center, led by Professor Matti Berkovitch, director of the Clinical pharmacology Unit at the medical center, and Dr. Orit Stoler. It will include a dedicated product in the T1/C20 category developed by Seach, called 'Nitzan Spectrum' with extremely low THC levels of less than 1%, so as not to turn the participants off with strong flavors.

Seach is looking for empirical evidence that cannabis is an effective medical tool for autistic children, something that is invaluable when working to expand the market.

Seach Medical Group has three subsidiaries, of which it owns roughly 40% of each. Trichome Shell develops "advanced consuming methods" including a Mood Pick - a small stick which can be inserted into a regular cigarette - and a powder that can be stirred into your morning coffee. The second, Eybna, is a terpene technology company. It analyzes the profiles and strains of different plants, monitors the chemicals that are lost during the extraction process, and produces the ones that were lost.

Rab compared it to selling coffee. "Today when you open a new type of coffee, you always get the same smell, the same taste - but it doesn't happen just like that. Coffeemakers, and other products which are based on agriculture, add smells and flavours to get you the consistent experience."

The third company, Sarid explained, is Targene - a company able to grow cannabis in a bioreactor. "We grow cannabis in a liquid environment, in a tank, by itself, we convince the cells to reproduce in this environment, and then we convince them to create the desired chemical profiles, like THC."

With oils, sticks, powders, and bioreactors, Seach Medical Group is transforming the agricultural industry by combining it with the entrepreneurial spirit of Israeli tech companies. Soon enough, medical cannabis will be an industry as large as any other - they're just waiting for the rest of the world to catch up.

Seach Medical Group went public in 2019 and has raised approximately NIS 58.5 million ($17 million).