How can an event production company survive when people aren't allowed to gather?
When the coronavirus pandemic hit, B.Y Creative and Productions had to think outside the box
Back in March, millions of conferences, events, and activities had to stop in their tracks due to worldwide lockdowns brought on by the coronavirus (Covid-19) pandemic. Businesses and companies were affected, but what happened to production companies who had all their customers cancel all at once?

"It was a big shock," recalled Zohar Rabinovich, VP Creative at B.Y Creative and Productions. "All of our physical events planned though (the Jewish festival of) Purim got canceled. We're talking about two weeks of high-production events every day."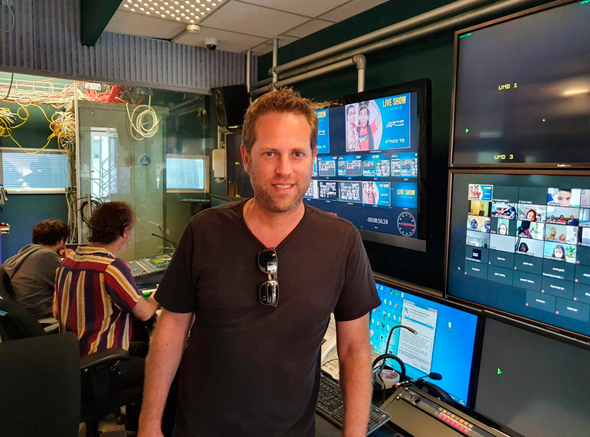 VP Creative at B.Y Production Group

The Israeli production company was founded in 1998 and helps businesses with professional conferences, employee events, and parties. Purim, which is normally a country-wide festival in Israel and within the Jewish community, is usually celebrated by hosting large costume parties. The country went into lockdown just a few days before the holiday meaning that the company had to cancel its events and work out how to stay in business for the foreseeable future.

At first, B.Y did what many other businesses did: moved to video. The team discovered Zoom and the power to broadcast speeches and events over the world to thousands of people. A fine first start in getting the content out there, but once restrictions started to ease, the production house created a new hybrid of broadcast events and live-show participants.

"We thought if we're already broadcasting events and it already feels like a television show, why not take more than one place, more than just the single studio?" he said. B.Y started renting VIP rooms in restaurants and event halls and dividing attendees into groups of 30, 40, or 50 people - however many were permitted to gather at the time. Broadcasting teams were set up in different cities around the country and then participants could join the conference or event from wherever they were.

"Every room with every group became a broadcasting point. Think of the Eurovision song contest, when you go from country to country - this is exactly like how we built our solution."

In a post-Covid world, it's possible to digitally invite more participants at a lower cost to witness more speakers and a wider variety of content. However, there is a very real need to still facilitate the physical aspects of a conference since usually, "the mingling is more important than the speakers themselves."

Because of this, Rabinovich believes the hybrid model is here to stay. One client, whose name he can't disclose, claimed that the cost of a virtual event with five pop-up locations is the same as a single flight to bring the keynote speaker from the U.S to Israel for a 15-minute speech. Participants will decide which events to visit in-person and which ones to tune into from their living room.

As the world prepares to adjust to the 'new normal' brought on by Covid-19, B.Y Creative and Productions has created a model that assists attendees and speakers. It might be more than a year until the world returns to what we once knew - until then, B.Y is there to broadcast events around the world.