Public transit fare payment apps to start operating in Israel in Q3 2020
The mobile payment option was originally scheduled to start operating in June, but its launch was delayed due to privacy concerns raised by Israel's Privacy Protection Authority and the Israeli transportation minister
Israel's public transit system will support fully digitized payment through mobile apps as early as the last quarter of 2020, several people familiar with the matter who spoke on condition of anonymity told Calcalist.

The new payment method will allow users to pay for rides using their phones, with the system automatically applying all relevant discounts as well as a maximum daily cap, without requiring a physical bus pass.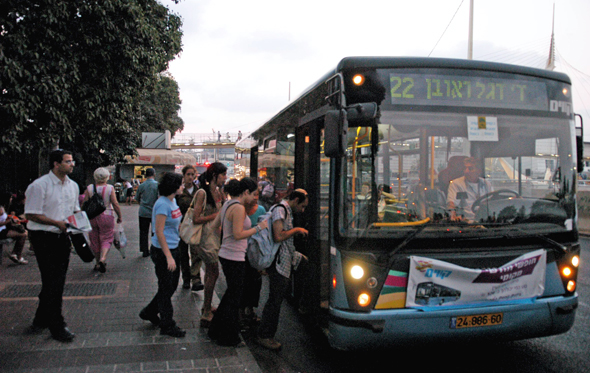 People boarding a bus. Photo: Yuval Chen
The companies to win the tender to offer the payment option on their apps were public transit navigation app developer Moovit App Global Ltd. in partnership with smart parking operator Pango Pay & Go Ltd.; Isracard Ltd., a Tel Aviv-listed credit card that spun off of Bank Hapoalim; and public transit payment app developer HopOn Ltd. in collaboration with Bank Discount's peer-to-peer payment app PayBox.
The mobile payment option was originally scheduled to start operating in June, but its launch was delayed due to privacy concerns raised by Israel's Privacy Protection Authority and the Israeli Minister of Transportation, Miri Regev.
Over the past few days the authority has lifted its objection and agreed to greenlight the use of the apps, the people familiar with the matter said.
According to Calcalist's probe into the matter, the new payment option is expected to become available either right after the Jewish High Holidays — which end in mid-October — or in November.
However, several changes being pushed for by the Ministry of Transportation, including reduced fares for people residing outside of Israel's center, may require further adjustments of the apps, delaying the launch to the last few weeks of 2020. The new understandings reached last week, will also see the Israeli train system included in the program.