Team8 launches new fintech startup founding platform, targeting $100 million in investments
The group will found and invest in early stage companies in exchange for 50% of their equity
Israeli cybersecurity startup foundry Team8 announced on Tuesday the official launch of Team8 Fintech, a parallel platform focused on founding and scaling transformative fintech companies.

The four partners leading the initiative are former president & CEO of Israel's largest bank, Leumi Group, Rakefet Russak-Aminoach, founder and president of digital payments unicorn Payoneer, Yuval Tal, founder and former chief product officer of social trading network and multi-asset brokerage unicorn eToro, Ronen Assia and former head of business development for PayPal across Eastern Europe, Israel and Africa, Galia Beer-Gabel.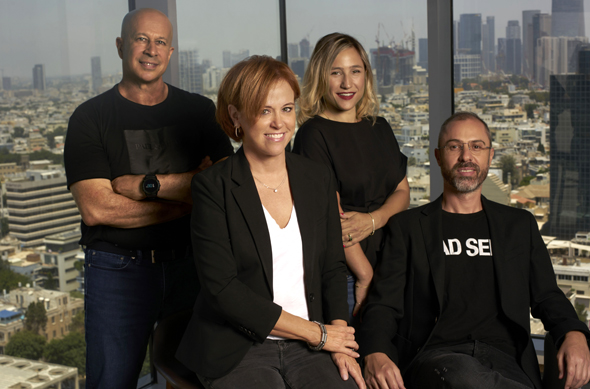 Yuval Tal(Left), Rakefet Russak-Aminoach, Galia Beer-Gabel and Ronen Assia. Photo: Ron Kedmi

As reported by Calcalist earlier today, The group has already reported to the SEC that it has raised $30 million, with the goal of reaching $100 million in investments.

The fintech venture will operate according to the same model as Team8's cyber foundry, which was founded in 2013, with the group aiming to launch and invest in startups in return for 50% of their equity.

"We are taking Team8's original platform, which included about 40 people and expanding it with many more people. It will be a single platform linked to that of Team8, and we're simply expanding it so it can support two sectors of activities," Russak-Aminoach told Calcalist.

Will the investment procedures be the same?

"Our model, like that of the original Team8, is that we both found companies and invest in them. Since we do both, we take a percentage that reflects the value, which is around 50% but may also be 45%."

According to Team8, the financial industry whose market is estimated at trillions of dollars is one of the world's largest and for the last decade has been undergoing rapid transformation. The "new consumer" expects personal, accessible, fast, and cheap service. Regulations such as "open banking" encourage competition, provide users with more control over their data, and allow them to easily migrate and adopt new financial services. Moreover, the Covid-19 pandemic is acting as a catalyst to transitioning from the physical to the digital world and is forcing the financial industry to rush and offer a variety of digital experiences to meet customer's expectations.