HR Post Covid
This year tested our values and culture, admits HoneyBook's HR Team
As part of our post-Covid HR series, HoneyBook's Maya Wolkoon and Allie Mintz discuss how they foster a unified work environment from two main offices in Tel Aviv and San Francisco
It can be hard enough for HR teams to pivot their strategies when entire workforces are sent to work from home. For HoneyBook, it was a unique challenge since their company is almost directly split between two cities— in fact, two continents with 10 hours of time difference between them.

"Our goal is, and has been, that everyone at HoneyBook feels like they are a part of one office, no matter where they work," say HoneyBook's Maya Wolkoon and Allie Mintz. Together, they work as a team to help align the two offices, creating policies that fit their 'One Office' mindset.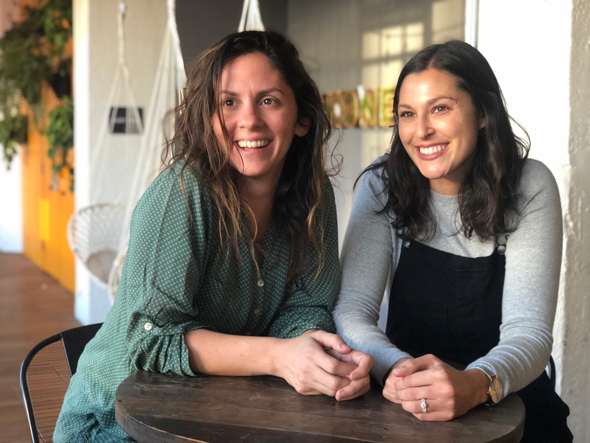 Maya Wolkoon and Allie Mintz . Photo: Honeybook
This segment explores how two different teams stayed together to make sure global employees can still feel a sense of belonging and culture once they're sent to work from home. Covid-19 tested how this could be implemented - let's see how HoneyBook managed.
Company name: HoneyBook
Field of activity:
HoneyBook is an all-in-one business management platform for freelancers and solopreneurs. HoneyBook helps creative small business owners streamline their business process, from first inquiry to final payment, so they can spend less time on administrative busy work and more time doing what they love.
Number of employees/location:
HoneyBook currently has 100 employees split nearly 50/50 between our offices in Tel Aviv and San Francisco as well as a handful of employees who work remotely throughout the U.S. and globally.
Professional background of HR manager, time at the company:
Maya Wolkoon is the General Manager of our Tel Aviv team and Allie Mintz is the Director of People in San Francisco. They've both been at the company since the early days, five years and six years respectively, and work as a team to create comprehensive HR policies that align the two offices. They're both passionate about company culture and building a great employee experience.
On a scale of 1-10, how much did the coronavirus pandemic disrupt HR operations at the company?
3/10 - As a global company made up of teams that are used to collaborating remotely across different time zones, HoneyBook was well-positioned to adjust to the new working conditions brought on by the coronavirus (Covid-19) pandemic. As a result, the shift to operating as a fully remote company was not very disruptive.
Virtual communication best practices, such as video conferencing and Slack, were already well integrated into our working environment. In fact, we start each morning/evening with a company-wide video meeting, where employees get updates on important company metrics, present upcoming projects or success stories, and participate in culture-building activities. These daily meetings help keep everyone checked into what's happening across the company and have been a part of our routine since HoneyBook started. In our current climate, they not only keep us aligned but also provide an opportunity for employees to see the friendly faces of their colleagues each morning.
It's all part of our "One Office" mindset that we've cultivated from the start of HoneyBook. Our goal is, and has been, that everyone at HoneyBook feels like they are a part of one office, no matter where they work. And never has that been more important than right now as we're all split between 100 different home offices.
What interesting technological tools do you use in employee management/recruitment?
When we think about systems for the People Team, we're thinking about how these systems can support the individual person and our culture. People Come First is our first core value and part of putting employees first is valuing every employee's voice. We have a strong culture of feedback at HoneyBook and we use the platform Culture Amp to get a pulse on what's working and not working for employees a few times a year. We then take that feedback and create company-wide action plans to address the main focus areas that came up. This process serves to elevate employees' voices and ensures we're operating in a way that best meets the needs of employees and the company as a whole.
What positive and/or negative impact did the outbreak have on the human capital of the company?
HoneyBook has a solid, well-established company culture and this puts us in a good position to weather these uncertain times. Fortunately, just four months before the pandemic, the entire company came together for a week-long team building experience in San Francisco that we called "One Office Week." The week was all about connecting with our people, our passion, and our purpose. Bringing everyone together not only strengthened existing relationships between employees but also created new ones, and now we're really getting to see the positive impact those close relationships have on collaboration and productivity. It also showed us just how important face to face interaction is. In the end, nothing can truly replace it.
Another part of our culture we're leaning into more during these uncertain times is transparency. We've always highly valued transparency – our CEO even shares the deck he presents to our Board of Directors with the whole company after each Board meeting. When the pandemic began, our business took a hit, but employees always knew where we stood because of the consistent communication from our CEO and Leadership Team.
This year has stress-tested our values and culture over and over again, but each time they've remained strong.
What are the two major challenges you are coping with these days?
Every single day, since the start of HoneyBook, we've been focused on helping small businesses survive and thrive. During the beginning of Covid-19, this became even more evident than before. Our members were in survival mode and we were able to help them navigate this uncertain, scary time as small businesses. While it was and is a challenge, knowing our members are relying on us fills us with all the energy we need to operate through these challenging times ourselves. More than anything, it truly connects us as a company.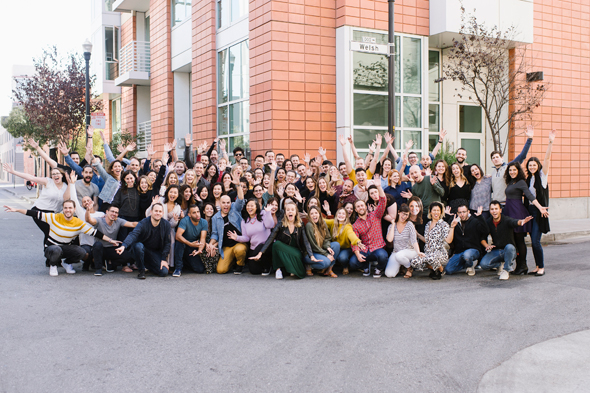 HoneyBook Team. Photo: HoneyBook
Another challenge is simply the uncertainty about what a post-Covid-19 world will look like. As a result, it's difficult to plan what the future of work will look like at HoneyBook. As many companies solidify their remote work policies, we are also having those conversations, but at this time it's too soon to make a definitive decision on the direction we want to take the company. Who knows what else could change in the next year!
Are you actively recruiting? If so, what is the process and where can applicants find you?
We're hiring in both our Tel Aviv and San Francisco and you can find our current openings here: https://www.honeybook.com/careers
We've taken our normal recruiting process online and each step now happens over video. We've been encouraged to hear feedback from candidates that our strong company culture is being felt through the screen – and there is nothing more wonderful to hear than that. It's important to us that the candidate experience we worked so hard to create has not been harmed as a result of this new situation.
Something fun to note is that we recently hired an Israeli developer based in Bangkok and bringing on a team member who was neither in the U.S. or Israel was something we were more open to because of the pandemic.
Which changes forced upon you by the circumstances will stay in place after the medical emergency is over and which are you most eager to revert back to normal?
Our core value "People Come First" has really come to the forefront during the pandemic. This is true not only for the way employees have been looking out for one another, but also for how they've been looking out for our members. It was clear early on that employees felt it was their duty to help our members' businesses stay afloat during these uncertain times. We were singularly minded as a company about this goal and all teams set to work to address it. As a result, we created some really meaningful content, resources, and new features to support business owners. While we've always been a people-first company, the pandemic really made clear the impact we can have when we all coalesce around one goal and commit ourselves to achieving it. This mindset is something that will stay with us.
What we're most looking forward to when things are "back to normal" is our next One Office Week (of course!)! While shifting to remote work has not been that much of a challenge for our operations, we still miss each other and can't wait to meet up in person again.