Google's CapitalG leads $250 million round for small business insurer Next Insurance
The round was made at a valuation of over $2 billion and brings the company's total funding raised to date to $631 million
CapitalG, the independent growth fund of Google parent company Alphabet Inc., has led a $250 million series D round for small business insurer Next Insurance Inc., the latter announced Wednesday.

The round was made at a valuation of over $2 billion and brings the company's total funding raised to date to $631 million.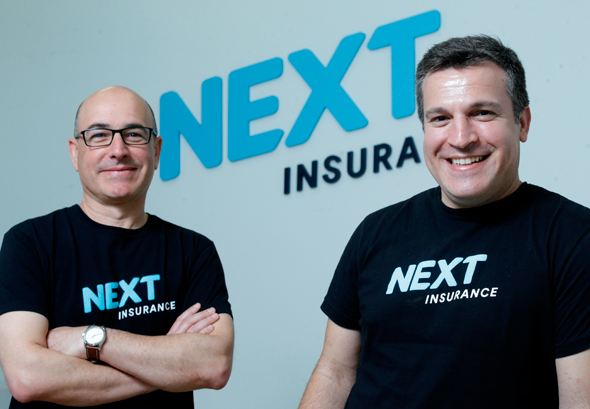 Next insurance co-founders Nissim Tapiro (left) and Alon Huri. Photo: Amit Shaal

The company's current valuation represents a significant leap compared to a valuation of around $1 billion at the time of Next Insurance's identical series C round last year.

Additional participants in the current round include insurtech-focused venture capital fund FinTLV, Israel's Bank Hapoalim, Psagot Investment House, Japan's MS&AD Insurance Group Holdings Inc., and existing investors German insurance company Munich Re Group and Group 11. Israeli insurer Migdal Insurance and Financial Holdings Ltd. invested $10 million in the round.

Many of Next Insurance's previous investors—including Redpoint Ventures, TLV Partners, Ribbit Capital, American Express Ventures, and Zeev Ventures—did not participate in the current round.

Next Insurance was founded in 2016 by Israeli entrepreneurs Nissim Tapiro, Guy Goldstein, and Alon Huri. Goldstein was among the co-founders of fintech startup Check Inc., which was acquired by software giant Intuit Inc. in 2014. Huri and Tapiro were both top executives at the company.

In 2020, Next Insurance increased its workforce by 50% to 350 employees worldwide, 150 of them in Israel, according to the company's statement. The company intends to hire 200 additional people within the next 12-18 months for its offices in Palo Alto, California, Austin, Texas, and Kfar Saba in central Israel.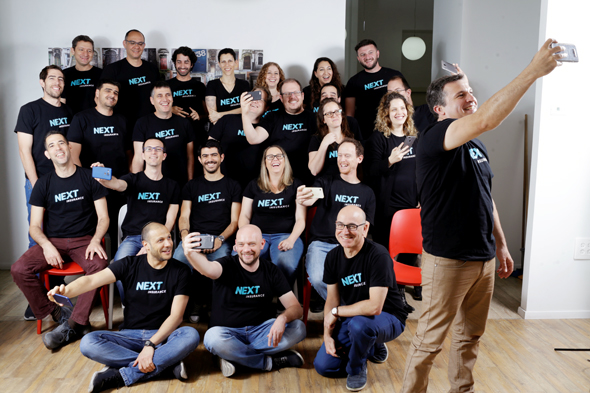 Next Insurance's team. Photo: Amit Shaal

At this point, Next Insurance preferred to continue to raise private funds over becoming a public company, as this strategy fits the company's financial needs for the next few years, Huri, who serves as the company's chief technology officer, said in an interview with Calcalist. "We are not currently considering an initial public offering (IPO)," he said, "our focus is on establishing a big company."

The company's strategy has been to raise money whenever it can and this time the opportunity presented itself far more quickly than it initially anticipated, Huri said. "This is a very complex time for small businesses and we have felt that in several ways and have seen a drop in sales, which was less drastic than we feared," he said.

The recovery was swift, Huri said, as the coronavirus (Covid-19) crisis improved the way people perceive online activity. "Once they started to do their day-to-day shopping online," he explained, "people realized they can also buy insurance online and that is when we saw a significant rise in revenue, peaking at $750,000 in one day."

A part of Next Insurance's DNA is that it is client-oriented, Huri said. "As soon as the pandemic started we started examining what we could do for them and decided to lower the premium for all existing customers to help them survive the crisis," he said.

Next Insurance has more than 100,000 customers in all 50 U.S. states. The company currently offers six types of insurance, including general liability, professional liability, commercial auto, and workers' compensation coverage.

"We aspire to help businesses thrive by delivering phenomenal insurance products and experience," Goldstein said in a statement. "Insurance is a market primed for a new approach," he said, "one that believes it is a social good and cares for its customers."

Next Insurance stated it intends to expand its existing product offerings and introduce new products in 2021 to serve the specific needs of small businesses in industries including accounting, construction, fitness, and retail.