Selina partners with Israeli scooter-sharing company LEO Ride
Instead of competing with Lime and Bird, LEO chose to pivot to a B2B business model
Adam Neumann-backed global hospitality chain Selina, Israeli actor Lior Raz, and serial investor Ron Zuckerman are investing in electronic scooter-sharing platform LEO Ride, which is jointly owned by Eyal Berkovic and Kfir and Dror Ben Shushan. The investment is estimated at 40% of the company's shares. The companies did not disclose the investment sum, but LEO has raised approximatley $10 million at a $20 million valuation.

"Selina has opened a large number of locations these days, despite the tough times. In three weeks we will begin, together with Selina, operations in Brazil, Miami, and New York," Kfir Ben Shushan, LEO's CEO, said in an interview with Calcalist. "Within a year, we will reach 100 Selina destinations in Israel and the rest of the world. We sell a full kit that includes a charging station and between 15-30 of our scooters, as well as an anti-Covid disinfecting station that we added to each kit. Every Selina location will receive a kit and one of their employees will be responsible for operating and maintaining it. Our business model is based on revenue sharing."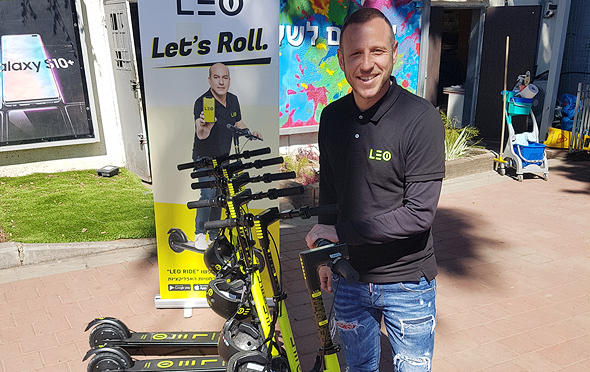 LEO Ride CEO Kfir Ben Shushan. Photo: Tomer Hadar

LEO's scooters will initially be available at Selina venues in Israel, Mexico, and Brazil, and later at all of its locations spread out over 18 countries across, Latin America, the U.S., and Europe.

In 2019, LEO switched to a B2B model, placing docking stations at hotels, businesses, and tourism service providers. The model, which was successfully integrated at the Fattal hotel chain and at a mall in the southern Israel city of Eilat, is gradually extending to additional locations around the world.

"Until the lockdown went into effect, we were registering incredible numbers in Eilat, where we have 600 scooters in circulation," Ben Shushan said. "We dropped under the radar for the last year. In the beginning, we were operating opposite the other scooter companies like Lime or Bird. We sought a profitable model and after a long night of deliberations, we realized we could gather up all the scooters and approach David Fattal with an offer to provide him with docking stations and scooters that could bring in $25-$30 a day, without vandalism and without theft. We started at one hotel and they saw the numbers and asked to extend it to all the chain's hotels. The same went for the mall, which saw the number of shoppers grow as a result of our agreement."

"Amid the Covid-19 pandemic, people are wary of public transportation, so we are noting a rise in demand for scooters. We have seen a 300% increase in Eilat since the start of the outbreak. We are now deployed on all the beaches and in 40 hotels across the city," Ben Shushan added. "All of our investors are strategic and we hope they can help us set up operations in Dubai and Turkey too."

The investment will help Selina expand its basket of services using an urban, inexpensive, efficient, and environmentally-friendly mobility solution and at the same time help LEO leverage Selina's global presence to expand its operations worldwide.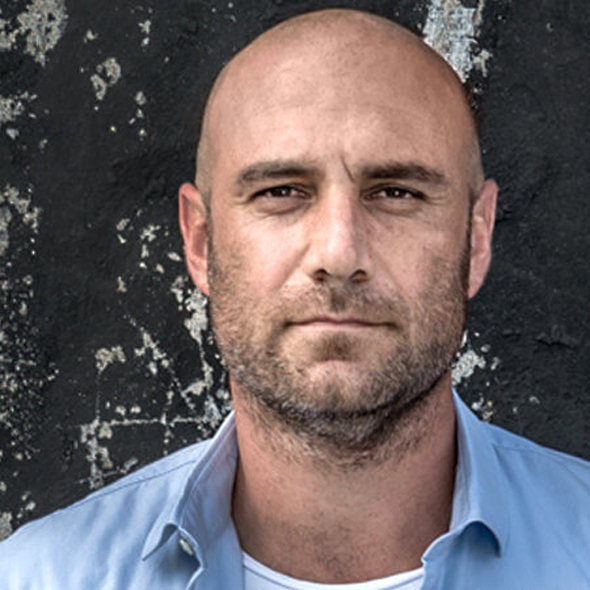 Selina co-founder Rafi Museri. Photo: Agustin Munoz

"Selina realized long ago that shared scooters are the preferred mobility solution for tourists. Travelers to big cities, and particularly now amid the pandemic, are not interested in renting cars and are looking for alternatives to the available public transportation. The new collaboration with LEO, whereby their scooters will be placed in our lobbies will offer travelers an accessible and authentic mobility solution that will ease their urban explorations," said Selina's Museri. "LEO founders Kfir and Dror Ben Shushan are central players in the shared mobility solutions sector, who for over a decade have been realizing their visions together with the INOKIM brand, which has sold more than 35 million scooters across 35 countries. Together with our partner Ron Zuckerman and actor Lior Raz and with the innovative model developed by LEO, we will create a micro-mobility experience that will be enjoyed, not only by Selina clients but by users all over the world"