Citi Accelerator TLV announces companies taking part in 10th cohort
The 2020 cohort focuses on areas like AI, cybersecurity, insurance, and money laundering
Citi has announced the start of its 10th cohort of the Citi Accelerator TLV, its program designed to help startups in the fintech, cyber, and data space. The new cohort brings its total number of participants to more than 100 - signaling more than $1.3 billion raised since the accelerator was launched in 2013.

"The world is undergoing a tremendous acceleration of digitization offering a boost in opportunities and growth for companies providing services to Financial Institutions," said Haim Haviv, Head of the Citi Accelerator. "Citi Accelerator is excited to lead the changes in fintech and assist the ecosystem to bring innovation in business and technology for the global finance industry."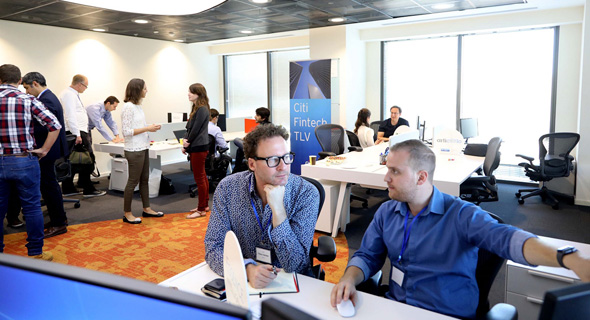 Citi Accelerator TLV. Photo: Sivan Farag

The Citi Accelerator TLV was designed to help startups with a fast track into Citi and provide a better understanding of financial institutions around the world. The participants, who sometimes have already raised up to series C funding, will have access to Citi executives and its global network. The 10th cohort focuses on areas like AI, cybersecurity, insurance, and money laundering.

Here is an entire breakdown of all participants and their technologies:

InterAI - helps turn existing enterprise systems and applications into modern apps to help improve employee experiences. Their solution requires no code, integration, or API and can help businesses in a matter of days.

Kymera - produces synthesized data sets from original data structures. In doing so, it reduces any gratuitous data and keeps it free of sharing limitations.

ArcusTeam - is an automated platform that can detect vulnerabilities on any connected and IoT device. Its 'ever-evolving threat elimination platform' can spot attacks on enterprises' current and future networks.

Cyberpion - has created a 'software-as-a-service' (SaaS) solution that continuously searches for assets and their connections. Then, it can detect changes that affect the security of the enterprise and provides protection and alerts.

Mostly AI - empowers financial institutions to generate synthetic data which is highly realistic and as-good-as-real but impossible to reverse engineer. It is also exempt from data protection regulations.

Gensyn - is a secure infrastructure that helps preserve the privacy of machine learning and data analytics.

IVIX - provides technologies for tax authorities to fight the 'shadow economy' and help close the gap in tax avoidance.

Datomize - generates synthetic data that can be shared and help with effective AI modeling, testing, and development. Its privacy regulations are compliant with GDPR, CCPA, HIPAA, and others.

USEncryption - pioneers encryption methods and tools to help process encrypted data. This enables the sharing and use of confidential data with security and privacy.

Vesttoo - specializes in data-driven risk modeling for insurance markets. This helps insurers with alternative risk transfer and hedging via capital markets, thus replacing traditional reinsurance.