Tech@Work
Covid-19 was a conference killer. How did Bizzabo survive it?
How does a company, whose technology is used for events and conferences, carry on during a pandemic? CTech spoke to Tami Lev-Golan to find out
Most people can remember back to March 2020 when the world stopped in its tracks and millions of people were sent into lockdown. Events and conferences were shut down and moved online, disrupting an entire industry designed around them.
"Our industry was disrupted overnight by this pandemic, forcing event organizers to delay or cancel events and rethink their entire events strategy," explained Bizzabo's HR Manager, Tami Lev-Golan.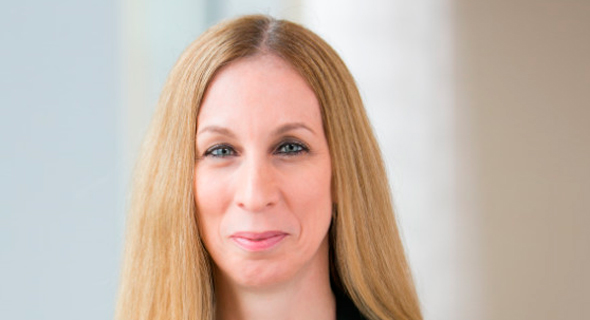 Bizzabo's Tami Lev-Golan. Photo: Bizzabo

Amazingly, the company not only survived, but managed to pivot and thrive in the era of Covid-19. Its technology is now used to power online and virtual events, forcing them to try to keep up with the increased demand.

Lev-Golan spoke with CTech about how Bizzabo was affected by Covid-19 and some of the steps they took to make it an easier transition.

1. Company Name: Bizzabo

2. HR Leader: Tami Lev-Golan

3. Field of Activity: Technology for professional events and conferences

4. Number of employees/location:

We have 170 employees - 100 in the U.S., 55 in Israel, and 15 in Ukraine

5. Professional background of HR Manager:

People Leader with vast experience at high-growth global technology companies both in-house and as a consultant.

6. On a scale of 1-10, how much did the coronavirus pandemic disrupt operations at the company?

10. Prior to Covid-19, our product was used to power live events. Our industry was disrupted overnight by this pandemic, forcing event organizers to delay or cancel events and rethink their entire events strategy. As soon as Covid-19 took over the world, we evolved our product offering to support virtual events and launched a new solution to the market. Thankfully, the market responded very well and adapted quickly to the new reality. We are now growing faster than ever before and feel very fortunate to be in a position to hire rapidly in order to respond to the demand in the market.

7. What interesting technological tools do you use in employee management/recruitment?

One of our goals as a people team at the company is to create the best employee and candidate experience. We revised our recruiting, interviewing, and onboarding processes to fully fit our new virtual reality. We have an incredible culture and a powerful set of values that we feel very strongly about, so we focused on ensuring that this unique culture is fully experienced through our candidate and employee journeys.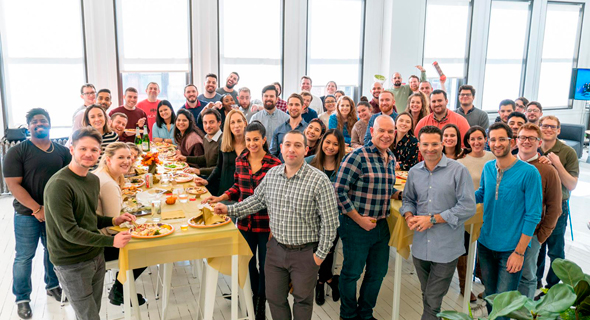 Bizzabo's team. Photo: Bizzabo

In this challenging period in particular, we wanted to acknowledge that every candidate is a person dealing with a difficult reality so we enhanced our process to make it the most comfortable and rewarding. We provide candidates with a guide so they know exactly what to expect throughout the process, we created personal profiles for our interviewing teams to make them more 'familiar' to the candidates, we send surveys throughout the process to gather feedback and take immediate action on any improvements, and we added a few small tokens of appreciation for those who get to final stages with coffee gift cards to make sure they come ready (and fully caffeinated) to their final interview.

8. What positive and/or negative impact did the outbreak have on the human capital of the company?

The primary challenges of this period are change and uncertainty. This pandemic took a toll on employees physically, emotionally, mentally, and financially. In times like these you see people's true colors, and what we have seen from our Bizzaboers was nothing short of amazing! The resilience, creativity, teamwork, positivity, strong commitment to one another and to our customers are what allowed us to make a very quick pivot and experience incredible growth.

9. What are the two major challenges you are coping with these days?

Our major challenges are a result of very fast growth which requires high-volume hiring while supporting a record-breaking number of events using our technology. Great challenges to have, but still significant challenges. Hiring fast without compromising on quality is never easy. However, we have made a decision as an organization to only hire top-talent, which for us means: great culture add and the ability to scale with us into the future. We feel very blessed that we are enabling a high-volume of events, but at the same time, our teams are stretched very thin and working around the clock to ensure our customers experience great success.

10. Are you actively recruiting? If so, what is the process and where can the applicants find you?

Yes! We are hiring across all regions; US, Israel, and Ukraine and we have open roles in every department. You can find all of our roles on our career page www.bizzabo.com/careers. Additionally, we are looking for top talent, so if a role is not published, reach out to us anyway for consideration.

11. Which changes forced upon you by the circumstances will stay in place after Covid-19 is over, and which are you most eager to revert back to normal?

I believe it is too soon to come out with any statements about the world post-covid and we continue to monitor the situation and adjust accordingly. We do know that we function extremely well in any environment, but at heart, we love to meet people in-person and we are very much looking forward to a day when we can all get together and enjoy each other's company again.