Tech@Work
Travel is now a 'psychological challenge', says SQream's HR Manager
According to Saray Ben-Meir, flights are 'crucial' for their business. So how did SQream cope during Covid-19?
While many companies have the infrastructure and ability to work from home during Covid-19, a lot of business still relies on face-to-face contact. While the skies might be opening up again soon, SQream's HR Manager Saray Ben-Meir shared some of the logistical nightmares with CTech.

"First and foremost, it is a psychological challenge as employees and their families have concerns regarding travel, and only those who explicitly express their consent will fly," she said. "There are numerous operational difficulties concerning routes, hotels, lockdowns, and safety measures that we have to solve."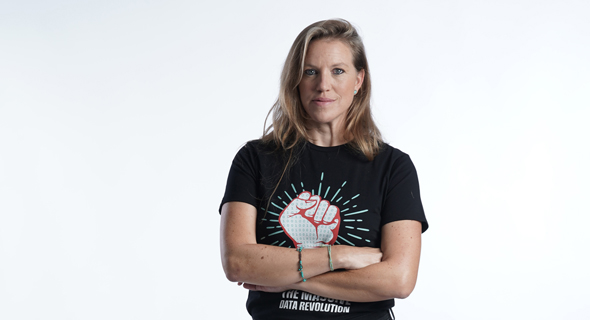 SQream's Saray Ben-Meir, Photo: Ophir Harel

As companies around the world focused on staying at home, SQream is concerned about how to go global again. Here's how they cope with the challenges post-Covid-19.

Company Name: SQream

HR Leader: Saray Ben-Meir

I joined SQream six years ago and was brought in to support massive growth, hunt talent, and establish processes that can easily scale while working closely with the business leaders to solve complex challenges through people-related solutions. Today, I am focused on working across teams to ensure alignment on strategic initiatives, building partnerships, leading organizational changes, and driving process improvement while keeping SQream's unique DNA.

Prior to SQream, I served in diverse HR and operational roles at prominent companies including NICE, Sapiens, and various startups. My roles always required a deep understanding of people, processes, and business. I spent quite a few years living abroad in North America and Europe working with people from different cultures and business environments. I studied Photography in Italy and still enjoy shooting photos around the world (and around the block during Covid-19!).

Field of Activity: Data Analytics Acceleration

Number of Employees/Locations:

100 worldwide with offices in Tel Aviv, New York, London, and South Korea.

How much did the coronavirus pandemic disrupt operations at the company?

Covid-19 is a once in a lifetime human experience that caused some serious disruption. At its onset, working remotely from home was the industry norm, and on the face of it, an efficient operational solution enabling business continuity. Quickly we realized that work from home comes with a price, primarily the absence of human interactions among employees and managers, which are critical for creative brainstorming, morale, and a sense of belonging and fun.

Onboarding of new employees was especially challenging as they are completely disconnected from the company's spirit and atmosphere, and lack any social connection with their peers.

Very quickly we witnessed demands from employees to return to our offices. We did our best to facilitate the return to our offices, partially at the beginning, and equipped the office spaces with all available protective measures.

In spite of the unique challenges, we saw no disruption at the business level nor the technological development level. All our teams maintained a high level of activity and were able to deliver all tasks and projects on time. The interruption of flights disrupted to some extent our sales and support activities, but we developed creative methods to overcome this challenge. On the flip side, the global economic crisis increased the demand for our solutions and provided us with exciting new opportunities.

What interesting technological tools do you use in employee management/recruitment?

We use the "BOB" HR system for all our HR processes, including an employee directory, employee data, and an organizational tree, and facilitating processes such as employee evaluations, task management, management of days-off, and more.

We use a recruitment system called "Comeet" for all our recruitment efforts, including submission of applications, virtual meetings with prospects, internal communications, and many others. We also use a variety of technological tools such as Slack, Zoom, and Hangouts, and are active in social media networks, primarily Facebook, LinkedIn, and Twitter.

What positive and/or negative impact did the outbreak have on the human capital of the company?

On the positive side, any major change like working from home embodies a new perspective in our lives, and an opportunity to formulate new approaches and concepts. Many of our employees enjoyed the relative freedom of the home environment and the somewhat decreased pressure. Additionally, during the lockdowns, we realized the full importance of documenting everything we do as a way to maintain control of all activities including Zoom meetings.

On the negative side, working at home created a bizarre dual absentee/attendee situation at home. In many cases, working hours were extended to a full day as employees were always available. Yet, the situation in some cases challenged management who found it more difficult initially to remotely manage large teams.

What are the two major challenges you are coping with these days?

The first major challenge is renewing our employees' ability to fly abroad. First and foremost, it is a psychological challenge as employees and their families have concerns regarding travel, and only those who explicitly express their consent will fly. In addition, there are numerous operational difficulties concerning routes, hotels, lockdowns, and safety measures that we have to solve. Flights are crucial for companies like SQream, and we hope to fully resume them safely as soon as possible.

.

The second major challenge is market prediction. The pandemic created tremendous opportunities for data analytics companies, but uncertainty is felt as well. It is unclear when and at what pace the global economy will recover, and it is not easy in this kind of environment to make operational decisions regarding recruitments, real estate, resource allocations, and more.

Are you actively recruiting? If so, what is the process and where can the applicants find you?

We are currently recruiting for 15-20 vacancies which are published on our website and our LinkedIn page. The recruiting process includes initial meetings with prospects that are being carried out in Zoom and then face-to-face meetings in later stages,.

Which changes forced upon you by the circumstances will stay in place after Covid-19 is over, and which are you most eager to revert to normal?

We will definitely shift back to our offices as the company's center of gravity in all layers of activities. However, we will prolong the work-from-home model on a more limited scale (a day or two per week) as we learned this "hybrid" work model works very well for us and enables us to enjoy "the best of both worlds".