Romance on the go: Bird and Bumble partner to help create meaningful connections
For the next four weeks, users can swipe and scoot for new opportunities to ride into the sunset
Israel-based e-scooter provider Bird has announced a partnership with Bumble, the popular dating app, to help Israelis 'connect in new, fun and environmentally friendly ways.'

Bumble's bright yellow decor will be spread across 50 of Bird's conventionally black scooters for the next four weeks. In that time, any rider looking for love can download the dating app for a free Bird ride in Israel's vibrant Tel Aviv - a city famous for its coastline Casanovas.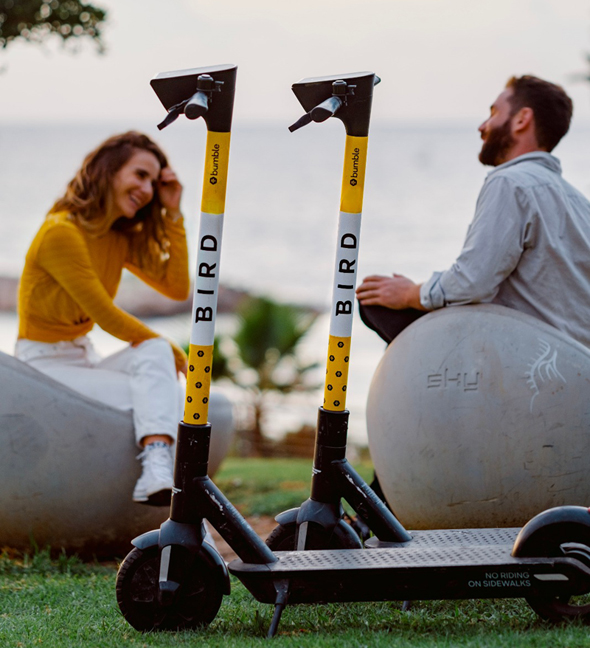 Users can swipe and scoot for new opportunities to ride into the sunset. Photo: Omri Golan

"Bumble and Bird are two beloved brands and both foster connections - either with your community or with other individuals," said Yaniv Rivlin, General Manager of Bird Israel. "Our collaboration with Bumble is designed to foster a bit of elation and spark new connections between individuals when our dating norms are a bit 'abnormal' given the pandemic."

"We hope that our partnership with Bumble will make people smile during what has been a truly difficult year, and we look forward to hearing about the stories and bonds that are created as a result of the program," added Rebecca Hahn, Chief Corporate Social Responsibility Officer at Bird.

According to a blog post on the Bird website, the collaboration hopes to provide "a new twist on the classic story of the Bird and the Bee." Now, users can swipe and scoot for new opportunities to ride into the sunset.