SeeTree completes $30 million series B to expand tree intelligence service
"Our vision is to enable the 'Tree-Farming 4.0 Revolution' with the Intelligence-per-Tree that we provide," says CEO
Israeli agtech startup SeeTree Systems Ltd., which provides growers with AI-powered intelligence on trees and tree clusters announced today that it has raised $30 million in a series B funding round led by the International Finance Corporation (IFC), the private-sector arm of the World Bank Group. Other investors in the round include Orbia Ventures, which owns 80% of the shares of Netafim (jointly with Kibbutz Hatzerim; Citrosuco, one of the world's largest orange juice producers; and Kubota, a Japanese manufacturer specializing in tractor and agricultural equipment. Existing investor Hanaco Ventures, which led the company's series A round, participated in the recent funding as well.

"Artificial intelligence can revolutionize agriculture and have a transformative impact on productivity, the environment, and the livelihoods of farmers," said Stephanie von Friedeburg, interim Managing Director and Executive Vice President, and CEO, of IFC. "We are excited to invest in SeeTree´s technology and help leverage precision agriculture in emerging markets."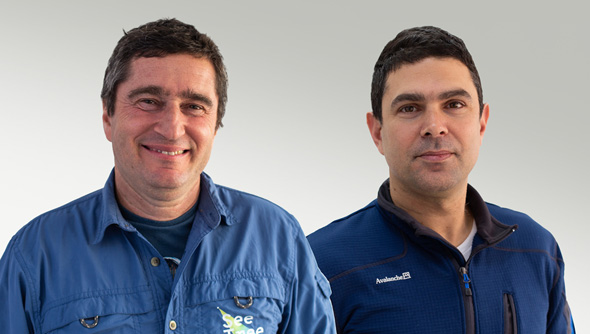 SeeTree co-founders Israel Talpaz and Guy Morgenstern. Photo: SeeTree

With operations in Brazil, the U.S, Chile, and South Africa and a team of 120 professionals, SeeTree monitors over fifty million trees around the world, a number expected to increase to 1 billion by 2023.

"We started with citrus and are servicing the largest citrus growers globally. We have a strong playbook and will continue scaling within citrus. We are now equally focused on growing our offerings into new crops such as almonds, olives, and hazelnuts, where we are already deployed and supporting farmers," Israel Talpaz, SeeTree's co-founder and CEO said.

SeeTree's system identifies the health and growth rates of every tree in a farmer's grove and enables the creation of personalized cultivation plans for each tree or cluster of trees. SeeTree collects ultra-high-resolution images captured by drones and multi-spectral sensors, tree and soil samples and analyzes the data through the platform's machine-learning algorithms. Ultimately farmers receive an easy-to-use product with features such as tree health, pest, and disease tracking.

"SeeTree has scaled in a massive, but frankly difficult-to-penetrate, market," Pasha Romanovski, cofounder and Partner at Hanaco Ventures and Board Director at SeeTree said. "The SeeTree team, led by Israel, has been able to productize a tremendous amount of deep technology into a platform accessible to farmers. They've developed great technology and have been able to execute in an important market ripe for innovation – trees."

The company was founded in 2017 by Talpaz, Barac Hachamov (chairman) and Guy Morgenstern (CTO). Its headquarters are in Tel Aviv with offices in California and Brazil. SeeTree has raised over $45 million from leading venture capital firms.