myInterview raises $5 million in seed to focus on 'people, not paper' during the hiring process
myInterview has seen a 500% increase in Annual Recurring Revenue since 2019, due to Covid-19
Smart video interview platform myInterview has raised $5 million in a seed round led by Aleph, with participation from previous investors Entrée Capital and SeedIL Ventures. The latest round adds to the previous pre-seed round of $1.6 million which included investment from former Linkedin executive Cliff Rosenberg.

myInterview aims to make the hiring experience easy and accessible for applicants, SMBs, and enterprises by using machine learning-powered analytics to match candidates with offices that have a similar company culture. After analyzing pre-recorded video interviews from candidates, it actively inverts the latest trend of anonymizing job applications by prioritizing candidates that appear to be a good match - at least on camera.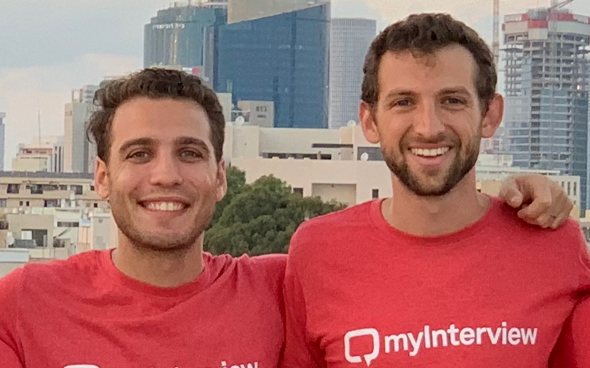 Co-founders Benjamin Gillman and Guy Abelsohn. Photo: myInterview

"A video is worth a thousand resumes," said Benjamin Gillman, CEO and Co-founder of myInterview. "By utilizing video interviews, we help businesses prioritize personality and cultural fit, optimizing the screening and selection process by ensuring that the applicants who are the best fit are moved to the head of the line. We use video in so many facets of our lives – recruiting and hiring are finally catching up."

Of course, the demand for video interviews during the application process has skyrocketed in 2020 due to Covid-19 and new remote working norms. According to the company, it has seen a 500% increase in Annual Recurring Revenue in the last year. Speaking with CTech in August, Eliav Rodman, myInterview's CMO, declared that "video is here to stay."

"Before Covid-19, there was a common objection that we heard: people don't want to be on camera, they might be camera shy. That objection is now gone. Thousands of companies have tried video and use video for their process and have not encountered such objections," he said at the time.

myInterview was founded in 2016 by Gillman and Guy Abelsohn and is today used by 2,000 companies including Ocado, B&M, and P&O Ferries. It has also worked with Facebook Career Connections and has a strategic partnership with reed.co.uk, a UK job site.