HR Post Covid
Awareness is "the first and most crucial step" in combating Covid-19, says WhiteSource
When moving from in-office to work-from-home environments, it's HR's responsibility to make sure managers are prepared to care for their employees, says VP HR Galit Gold
There is so much more to working from home than just the intimacy of speaking with your colleagues face-to-face. For WhiteSource's VP HR, Galit Gold, it all came down to one major quality: Awareness.
"I believe awareness is the first and most crucial step in dealing with the challenges we face now," she told CTech as part of its HR Post-Covid series. According to her, WhiteSource now offers bi-weekly presentations from guest speakers and "trained our team leaders and managers on the complexities of remote work." This even includes reading subliminal messages from body language to ensure managers feel equipped in recognizing potential cries for help from employees.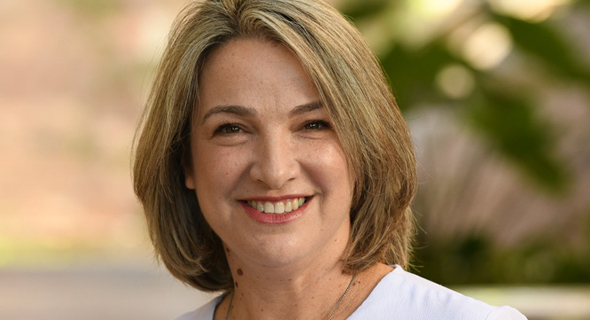 WhiteSource's VP HR, Galit Gold. Photo: PR
WhiteSource joined CTech to discuss how the application security company, which has around 250 employees, managed to pivot online and care for its workers while they worked from home.
Company Name: WhiteSource
HR Leader: Galit Gold, VP Human Resources
Field of Activity: Application Security
Number of employees/location: 250 in Israel and the U.S.
The professional background of HR Manager:
I began my professional career over 15 years ago at Israel's largest telecom company. I led organizational development projects and also designed and implemented career paths, top talent, and mentoring programs.
Then, I took on leading an entire human resource organization in a company in the finance and insurance industry. There, I established the infrastructure for human resource management while being a key partner in defining all aspects of the HR strategy and organizational change processes.
I joined WhiteSource, a leader in the application security market, as VP HR in April when we were all quarantined due to Covid-19, back when we had more questions than answers about the future.
As VP HR, I'm focused on presenting the employee aspect in every business decision to ensure all managers in the organization think about the impact that every decision we make will have on our people. My success lies in employee development, whether it is through training, mentoring, or career path management. This is my expertise and passion: I am a true people person.
On a scale of 1-10, how much did the coronavirus pandemic disrupt operations at the company?
I would say between 3-4, but it's not as clear-cut as that.
The significant disruption was having to learn how to work together without being together. However, the main advantage of working in a startup company is the flexibility and ability to respond quickly to disruptions. We took it as an opportunity to improve our operations, find new ways to work together as a team and be creative about how we deliver value to our customers. The company doesn't have any other resources besides our people and so our top priority is to make sure our teams' members get everything they need to cope with changing circumstances.
Our efforts were focused on two main areas: employee engagement and continuing the support of the business with continuous recruitment and onboarding of new employees.
In terms of employee engagement, we encouraged employees to share selfies of their lunches, working area, pets, etc. To ensure we're staying connected, we started using "Donut" and encouraged people to have a 'virtual coffee' together. We offer bi-weekly presentations from guest speakers, and most importantly, trained our team leaders and managers on the complexities of remote work since I believe awareness is the first and most crucial step in dealing with the challenges we face now.
The second significant change we implemented was in the recruitment and on-boarding process. Interviewing people through video calls forced us to tighten the interviewing process by defining critical questions, using more home tests to evaluate skills, and obviously train managers on how to read body language. Once new employees were hired, the real challenge began with onboarding them from a professional and a cultural aspect. We created a welcome pack that was sent to new employees on their first day, and every new employee received a mentor to help them out in the first few months. We also expanded our 'new employee orientation' course which became a virtual class.
What interesting technological tools do you use in employee management/ recruitment?
There are amazing technological solutions out there that can help HR teams deal better with this new communication challenge we are all facing.
In addition to leveraging our existing Slack channels and encouraging managers to set an example and share anecdotes and selfies during their workday, we also implemented new technologies.
We started polling our employees through SurveyMonkey to get their feedback on WFH routines, equipment support, engagement activities, and more. I found it to be an extremely important activity and we got an average of over 70% response rate which shows you how much people want to be heard.
We also started using the Donut app which our employees love. We purchased licenses (unlimited courses) at Udemy to encourage people to learn new areas whether they are related to their work (AI, AWS certification, product management, etc.) or not (drawing, negotiation skills, productivity tools, etc).
We are currently looking into additional tools like GrowthSpace, which offers online talent coaching to our employees by external experts, and the Reaction Club which offers personalized engagement programs.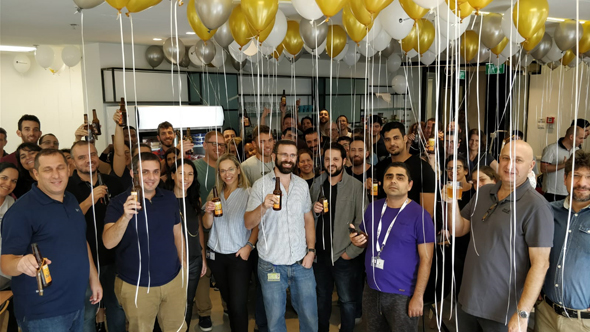 The WhiteSource team. Photo: PR
What positive and/or negative impact did the outbreak have on the company's human capital?
WhiteSource is a company that has set excellence and teamwork as two of its key operating principles. One of the most important positive effects of the Covid-19 outbreak was the impact these fundamental principles had on people's daily work lives. Given the excellent human capital we have on board, the remote team-working environment significantly increased the level of personal autonomy while enabling people to get the job done with much more flexibility. People are willing to take on more responsibility and as result are enjoying a higher level of trust.
The downside of the increase in flexibility is the need to redefine the boundaries between work and everything else we do in life. The pandemic certainly has made creating a work-life balance more of a challenge. I find this is a personal challenge as well, and I think that as a company and a society, we will certainly have to find the sweet-spot of the right balance between the two.
What are the two major challenges you are coping with these days?
Working remotely and social distancing have denied us one of the fundamental needs as human beings - social interaction. This isn't only a health crisis. We sense a growing feeling of loneliness and stress among people as the pandemic continues. Our employees miss the social interactions so we have become very proactive about enabling and enhancing social interaction in any way we can.
On a personal level, we encourage informal meetings. On a team level, we provide teams with the means, ideas, and assistance to meet outside of the office (in small groups, of course) to encourage face-to-face interactions. On a company level, we host frequent happy-hour virtual gatherings, inviting speakers from in and outside the company on various topics, and organize employee contests with lucrative prizes. We do all this and more to strengthen social bonds and make people feel connected.
The second major challenge we're coping with at this time is developing soft skills. It's become clear that these skills, which may have been seen as nice-to-have, are in fact crucial for a person to take their career to the next level. We're focusing on remote management tools, and improving communication and feedback skills. Our priority has become to help employees develop these skills across the board. In addition, we are encouraging those of us who have the courage to dare, to step forward and give a TED-like talk on any subject they choose. It's important to emphasize that we are providing personal mentoring and guidance to help the people who need it in order to succeed in this challenge, as it doesn't come naturally to all of us.
Are you actively recruiting? If so, what is the process, and where can the applicants find you?
We have more than 45 open positions in Israel and the U.S.
We are looking for Java developers, QA engineers, marketing automation specialists, customer success managers, algorithm developers, a legal counsel, and many more - please check out our career page for more information.
You can also send your CV to HR@WhiteSourceSoftware.com in case you don't feel there's a relevant position at this point but would like us to consider you in the future.
All interviews are done remotely and there are three to five interviews, depending on the position, including team members, direct managers, and the executive manager leading the department.
We take pride in our employee and candidate reviews on Glassdoor and Comparably giving us a 95% approval rating - read why our employees love working at WhiteSource.
Which changes forced upon you by the circumstances will stay in place after Covid-19 is over, and which are you most eager to revert back to normal?
It's pretty clear by now that the world has permanently shifted to a more remote and flexible way of operating. The vast majority of our employees don't want to go back to the way things were.
Our employees have learned to work better from home and get to spend less time on the road and more time with their loved ones. However, the current situation of fully remote is very problematic. We miss being together, and it's challenging to build a team, culture, and relationships if you're doing it entirely over Zoom. Fostering the in-person experience is important to us.
I envision a hybrid model that combines working remotely and working together at the office so we can benefit from social interactions and collaborations and also the productivity, flexibility, and better work-life balance of working remotely.