Opinion
Happy Bat Mitzvah Bitcoin! My how you've grown
12 years on, the world's top cryptocurrency is affecting the lives of more and more people and increasingly finds itself under state scrutiny
Sunday, January 3, 2021, was the 12th anniversary of the creation of the genesis block, the first block of the Bitcoin blockchain, the one that started it all. Mazel Tov on your Bat Mitzvah!

Now, slightly more than a decade later, 144 new blocks are created daily, adding to an ever-lengthening chain already more than 660,000 blocks long. More remarkably, the value of all cryptocurrencies is quickly approaching $1 trillion.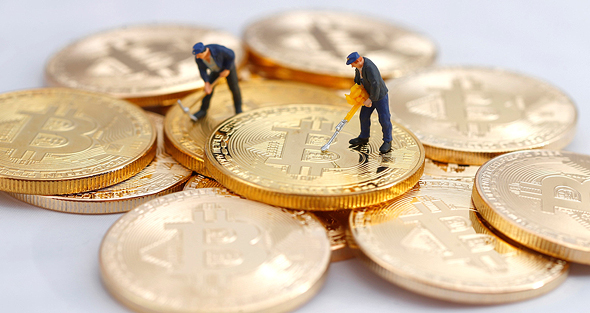 Illustrative image of people mininig for Bitcoin. Photo: Shutterstock
In Judaism, becoming bat mitzvah signifies becoming an adult with all the associated rules and regulations that you now need to follow. The same seems to apply to Bitcoin. With Bitcoin hitting new all-time highs daily, and interest in cryptocurrencies expanding, the United States Treasury's Financial Crimes Enforcement Network (FinCEN) proposed new rules that would require all financial institutions to record the name and physical address of the involved parties for all cryptocurrency transactions greater than $3,000, even simply moving tokens to and from a user's digital wallet. Transactions over $10,000 are further required to be reported, via Currency Transaction Reports, to the government.
The proposed rule change is supposedly one of the many last-minute changes by the Trump Administration before the new Biden Administration takes over; to wit, there is only a 15 day comment period, much of it already occurred during the winter holiday season. FinCEN, for their part, claims that national security needs compelled the lightning-fast turnaround.
Then, just days later, on New Year's Eve, FinCEN further proposed a change to the Foreign Bank and Financial Accounts (FBAR) regulations, requiring Americans to disclose all foreign holdings of virtual currencies. This disclosure requirement, which falls under the Bank Secrecy Act and typically applies to American ex-pats who often hold foreign bank accounts where they reside, was formerly limited to just currency accounts, brokerage accounts, and mutual funds. The penalties for failing to submit a proper FBAR can be onerous.
While both sets of new regulations would be burdensome to any citizen involved in cryptocurrency, the government ostensibly believes that these draconian rules are necessary. Cryptocurrencies have a bad rap. They are thought to be used by money launderers, drug traffickers, and international terrorists to circumvent banking regulations that would hamper their activities. Much of that is true. Billions of dollars have been laundered via Bitcoin and other virtual currencies over the last decade.
But not all of the new rules for cryptocurrencies proposed for 2021 are necessarily anti-virtual currency. In a letter published this week, the U.S. Treasury's Office of the Comptroller of the Currency granted banks permission to employ public blockchains (INVNs) and stablecoins, (e.g. cryptocurrency that is pegged to a less volatile asset, like exchange-traded commodities or legal tender) for bank functions, hopefully speeding back-end banking processes, particularly cross-border monetary transactions, by removing time-consuming and costly intermediaries.
In Israel, there are also new rules and regulations for cryptocurrencies, arguably as a result of their rising value and their potential to fill depleting tax coffers. The Israeli Securities Authority made a rule-change with regard to cryptocurrencies, rendering them securities, with all associated regulatory oversight, and not simply assets.
Israeli Tax Authority has supposedly stepped up enforcement of the reporting on cryptocurrencies, sending out letters to putative owners of virtual currencies, reminding them to voluntarily report on their holdings.
This distinction that regulators, American, Israeli, or otherwise, make between whether a cryptocurrency is deemed a currency, asset, or security is important and has potentially huge consequences for cryptocurrency enterprises and their investors. Consider Ripple's XRP, still one of the most popular cryptocurrencies. Ripple was recently sued by the U.S. Securities and Exchange Commission (SEC), claiming that Ripple's founder and CEO sold XRP to investors without the necessary disclosures demanded by the SEC whenever securities are traded.
This is not the first time Ripple has gotten in trouble for failing to abide by financial regulations. This might be confusing to laypeople as the same SEC earlier ruled that Bitcoin and the second most popular cryptocurrency Ether are not securities. Other federal U.S. agencies are further inconsistent. Arguably, this is because Bitcoin and Ethereum's Ether are continually mined, whereas all of available XRP was just created all at once.
Bitcoins are digitally mined around the world using computational power from wherever it is available. Increasingly these mining operations operate where energy is cheap: Bitcoin mining consumes almost double the amount of power that Israel uses annually. These miners use anything from purpose-built computers, Application-Specific Integrated Circuits (ASICs) to off-the-shelf devices to extract the Bitcoins via mathematical algorithms. One popular computing tool for the intensive energy-consuming calculations demanded by Bitcoin and other cryptocurrency's proof of work methodology are high-end graphic processing units (GPUs) that are also an integral component of gaming computers.
Unfortunately, for gamers, the recent upswing of Bitcoin and related cryptocurrencies – JPMorgan Chase thinks that Bitcoin could eventually hit $146,000 per coin— has also substantially increased the demand for powerful GPUs that are already hard to come by.
Unfortunately, Bitcoin's success is not the only bad news for gamers. The 2018 Chinese tariff exclusions under the Trump Administration, which had initially helped to lower prices on Chinese produced GPUs, expired in the New Year, and gamers can expect to see significant price increases, perhaps even up to 25%, in whatever GPUs are ultimately available.
In addition to the lower costs, gaming became increasingly popular over the past year due to its ability to provide a quick reprieve from the stress of the pandemic. This popularity of gaming is thought to continue to surge, long after the pandemic, as evidenced by the recent breaking ground on the nearly billion-dollar half-million square meter esports events hub in Shanghai China. Similarly, in another sign of the role of gaming in pandemic times. Epic Games, the maker of the popular Fortnite game just bought a suburban mall to convert into its new headquarters.
And, if esports hasn't yet attracted a large enough audience, in addition to the long-standing efforts by esport teams to increase fan-engagement by offering their fans branded crypto-tokens, there are now efforts to integrate Bitcoin payouts directly into video games. This will substantially change even recreational gaming. As a global currency, Bitcoin is thought to provide players with a skin-in-the-game feel for games like multiplayer first-player-shoot (FPS) Counter-Strike: Global Offensive (CS:GO), a preferred payout to game currencies or in-app purchases.
As Bitcoin continues to rocket upward due in part to a lack of faith in our governments' abilities to handle the pandemic, more of us will likely seek both mental reprieves and hopefully even financial gains in online gaming this coming year.
Prof. Dov Greenbaum is the director of the Zvi Meitar Institute for Legal Implications of Emerging Technologies at the Harry Radzyner Law School, at IDC Herzliya