Interview
For JoyTunes, if music be the food of lockdowns, play on
When entire households were sent into lockdown due to Covid-19, JoyTunes saw an explosion in downloads for their music learning apps for the whole family
Israeli music learning app developer JoyTunes saw what they describe as 'massive' and 'dramatic' demands in their apps Simply Piano and Simply Guitar during Covid-19. The apps, which help novices learn to play an instrument using AI and algorithms, have had 10 million downloads worldwide and 1 million songs played every week since the start of the pandemic.

"What we saw was our learners using our apps to invest their time in a significant and beneficial way," explained Yoav Sharon, JoyTunes' Head of Product, Growth. "When they wanted to learn new skills like the piano or guitar, they found it to be valuable for their needs. So we saw a dramatic increase in new users as well as engagement in our excisting users."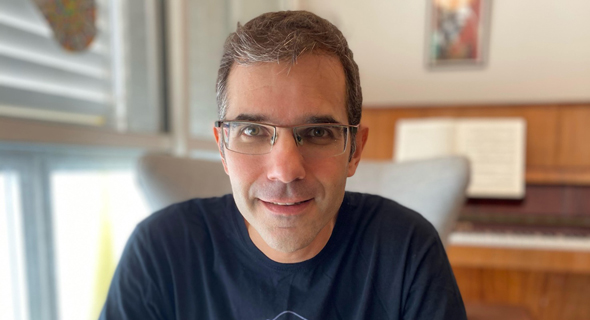 Yoav Sharon, JoyTunes' Head of Product and Growth. Photo: JoyTunes

Today, Simply Piano is used by hundreds and thousands of students around the world, listed as one of Apple's 'Editor's Choice' in its App Store, and voted Best App in Google Play. Its Facebook group, where users can upload and share videos of their progress, has a community of more than 150,000 users with videos racking up thousands of views and reactions.

"It was amazing to see how this community was a shelter for people to share their difficult times and share how they got through quarantine to have a better time with lockdown and deal with loneliness," added Michal Kisra, Productivity Enhancer to the CEO.

One aspect that JoyTunes noticed during lockdowns was that households would often turn to each other to keep themselves entertained, and not just to anonymous avatars online. According to JoyTunes, a lot of its growth can be associated with "families during lockdowns finding things to do… people found it to be a fantastic way to learn new skills in this hard time."

Membership costs to Simply Piano and its newer cousin, Simply Guitar, depend on the region, but prices hover at around $150 for the year. Similar to userbase apps like Netflix, they allow different user profiles to log in and track individual progress making it easy for families to learn together. "You can have a father and daughter, or the siblings, all using the apps in the same subscription and this generates some dynamics in the house," Sharon explained.

As time goes on and restrictions are expected to lift in the future, JoyTunes doesn't anticipate its growth to slow or stagger. In fact, they expect trends to continue since Covid-19 allowed new learners to start the initial process of learning an instrument (or forming a new family band).

"It does seem as if the amount of time spent at home using our apps allowed many learners to bypass a certain threshold that then allowed them to form more of a habit around playing the piano," he explained. "When you have an entire family engaged and learning new instruments it creates strong dynamics. We don't expect it to disappear when people go back to a more normal life."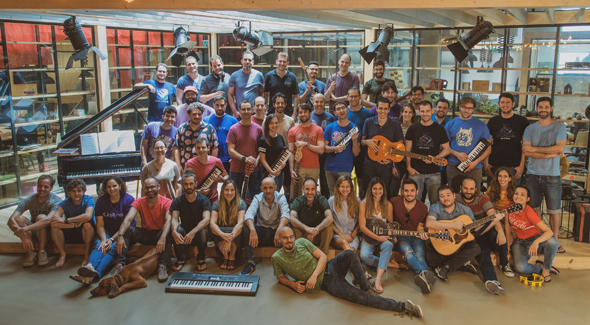 The JoyTunes team. Photo: JoyTunes

It appears that JoyTunes was one of the lucky companies that saw usership and engagement rise as millions of people were sent home. In lockdown, people wanted to find meaningful and creative ways to spend their time and JoyTunes is proof that there is an active approach to keeping safe and sane. "These are products that help people learn a new skill and invest their time in a way that leaves you with a tangible value," Sharon affirmed.

JoyTunes was founded in 2011 by Yigal Kaminka, and Roey Izkovsky and Yuval Kaminka who serve as the company's CTO and CEO, respectively. Its technology uses sound recognition technology and AI to develop educational apps for music lovers around the world. Its piano teacher app, Piano Maestro, is used by 10% of American piano teachers. To date, the company has raised $42 million.