Top Startups
JoyTunes Wants to Help You Become a Better Version of Yourself, Says CEO
Yuval Kaminka, CEO of the Tel Aviv-based music education company, says making controversial business decisions made JoyTunes the company it is today
JoyTunes
Product: music education apps
Year founded: 2011
Founders: Yigal Kaminka, Yuval Kaminka, Roey Izkovsky
Number of employees: 75
Funding: $43 million
Investors: Insight Venture Partners, Kaedan Capital, Zohar Gilon
Tel Aviv-based music education apps developer JoyTunes Ltd. had a very good year even before the coronavirus (Covid-19) outbreak. The global lockdown, however, and the very natural human tendency to seek out new experiences, led to a huge leap in demand for JoyTunes' product, both in terms of time spent on the apps and the number of users.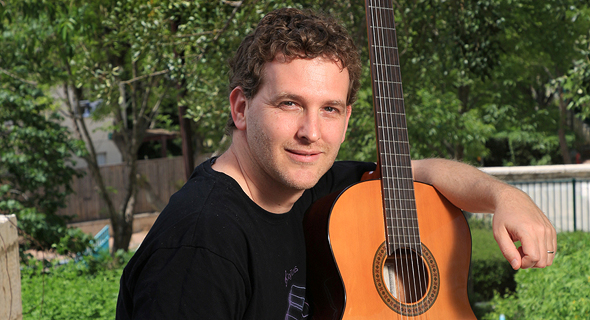 JoyTunes Co-Founder and CEO Yuval Kaminka. Photo: Courtesy
All in all, JoyTunes serves as an impressive example of a company that, despite being quite small, managed to handle rapid growth during challenging times. Not only did the company adjust quickly to support the record demand, but it also started offering its product on a pay-what-you-want model. "We did not want to deprive people of the opportunity to learn to play music at this time," Co-Founder and CEO Yuval Kaminka told Calcalist in a recent interview. People can now use the company's apps for three months, paying what they feel is fair, from $1 to the retail price of $59.99 for the whole period, with all proceeds going to charity, Kaminka said. According to him, most users opt to pay the full price.
Kaminka said he believes a lot of the nontrivial decisions made by the company, including controversial decisions that investors did not like, were crucial to putting the company where it is today. Kaminka named the decision to develop something that does good to people as one of the main controversial moves. Another example he gave was taking the time when it came to raising money. "We didn't rush into raising funds, we are still less than 20 developers and we have a culture that nurtures independence," he said. "At a time of remote work from home, these elements allow us to still move very quickly."
The effects of this conduct are evident by JoyTunes' performance. "Companies are measured by how long it takes them to grow from $1 million in annual revenue to $10 million," Kaminka said. "It took us three years to get from $0 to $1 million, quite the tuition, but from $1 million, reaching $10 million took us less than a year and a half, which puts us in line with the world's best companies," he said.
Kaminka and his brother Yigal partnered to found JoyTunes together, but do not seem to remember whose idea it was originally. "We still argue about that and I insist it was my idea," Kaminka said. "I spent a lot of time playing video games with my nephews and I saw how much time and passion they spent on these games but when their mother asked them if they practiced piano they suddenly started to make up stories about tummy aches," he explained.
The solution was turning music lessons into a game. At first, the company developed a video game for learning to play the recorder, but very quickly shifted to piano, with its signature app SimplyPiano. "People don't take the recorder seriously and it is considered more of an entry level instrument for kids, but there is a surprising number of people that want to learn to play piano," Kaminka said.
JoyTunes' app lowers the bar for novices looking to learn an instrument, Kaminka said. "Someone once told us we were democratizing music," he added.
Since launching SimplyPiano, JoyTunes also introduced a guitar learning app as well as an app for music teachers and is working on additional tools, including for singing lessons. "We have had quite a journey and in the past two years, we have a feeling that we got something that is very refined," Kaminka said. "What we are building is an extensive product for the whole family to learn different instruments," he explained. "If Netflix is currently the go-to subscription-based service for leisure and escape from the stress of day-to-day life, our service lets users spend time to become a better version of themselves."
It may sound a bit presumptuous, perhaps even naive, but when Kaminka talks of his vision for JoyTunes it is difficult to not get swept away. "There are a lot more products we need to make, we are looking to build a very big company," he said. "Imagine how cool it will be to be in every household in the world, to do people good, this is huge and very meaningful and it excites us.
JoyTunes was featured in Calcalist and CTech's2020 list of Israel's most promising startups.
Click here for our selection of 2020's most promising cybersecurity startups
Click here for our selection of 2020's most promising logistics and e-commerce startups
Click here for our selection of 2020's most promising unicorns
Click here for our selection of 2020's most promising medtech startups
Click here for our selection of 2020's most promising deep tech startups
Click here for our selection of 2020's most promising entertainment and media startups