Israeli defense companies grounded, can't attend UAE weapons expo following court ruling
Companies' booths at annual IDEX conference stand empty after a judge refused to overrule a government committee forbidding reps from traveling
It's final. The stalls of Israeli defense companies at the Abu Dhabi International Defence Exhibition and Conference (IDEX) will remain empty this year after a judge rejected a petition filed by 25 companies appealing a government committee's refusal to allow them to attend it despite a ban on travel due to Covid-19.

Tel Aviv District Court judge Tamar Avrahami ruled that the companies were unable to prove they had been discriminated against by the exemption committee who had approved larger companies like Israel Aerospace Industries (IAI) and NSO to fly to the expo despite fears of travelers importing new strains of Covid-19.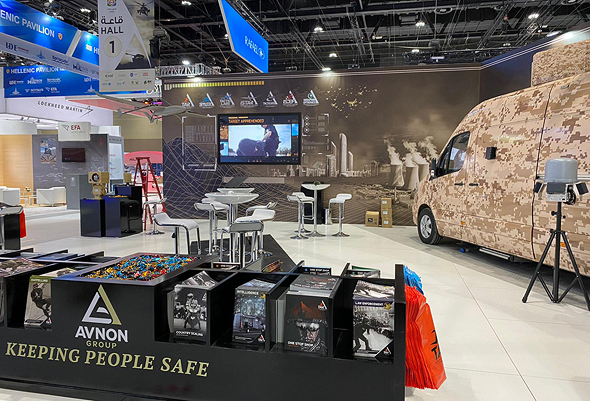 Empty Israeli booths at IDEX 2021. Photo: Courtesy

Even the announcement by Arkia Israeli Airlines that it was ready to transport the delegation at short notice didn't help the plaintiffs. According to estimates, around $5 million were invested by Israeli companies in preparations for the exhibition.

The plaintiffs were represented by attorneys Tommy Manor, Tal Gendelman, and Gal Chechik from the Naschitz Brandes Amir Law firm, with the aid of Sharon Tzfoni, who heads the firm's Gulf Desk.

Israel banned passenger flights in and out of the country four weeks ago as it sought to stop the spread of new coronavirus variants. The airport has been closed ever since, apart from cargo and emergency flights, or any flights approved by the exemptions committee.

Meanwhile, at the exhibition, which got underway on Sunday, the Israeli companies' booths remain all but empty. Some of the companies who had registered for the event had hired local representatives to greet attendees and link them to the grounded Israeli executives. Other companies, such as the Avnon group, already operate in the UAE and employ permanent representatives who are manning the booths.

"It's a real shame that now, when we can for the first time officially and openly take part in an event in the Gulf, our booth is being manned by a local worker we hired and not our resident experts," lamented Hannah Manor from drone battery manufacturer Amicell.