Gaming giant Ubisoft takes part in Overwolf's $52 million series C
"The madness started in 2019 and the pandemic just added a tailwind to what was already working fantastically," said Overwolf's CEO
There is no doubt that the gaming sector is one of the biggest winners of the Covid-19 era. The number of players climbed by hundreds of percent due to global lockdowns and companies that are active in the space experienced an unprecedented surge. Israel is considered a global powerhouse in the gaming world, with companies such as Playtika, which recently went public at a valuation of $11 billion, among many others.

On Tuesday, one of the standout companies in the local industry, Overwolf, revealed that it had completed a $52 million series C round led by Insight Partners and Griffin Gaming partners, with participation from gaming giant Ubisoft, and HPE CEO Meg Whitman. Other participants in the round include Warner Music Group, Jibe Ventures, Gen G. chairman Kevin Chou, and previous backers Intel Capital, Liberty Technology Venture Capital, and Marker. The company has raised a total of $75 million to date. Its enterprise value prior to the round was $200 million.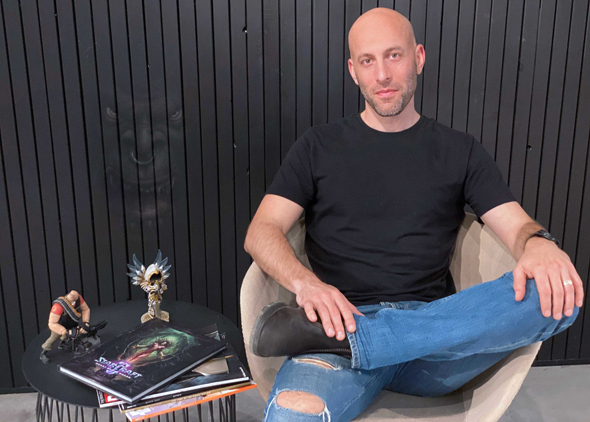 Overwolf CEO Uri Marchand. Photo: PR

Founded in 2010 by Uri Marchand, Alon Rabinovitz, and Gil Or, Overwolf built a platform that enables creators to build, distribute, and monetize in-game apps and mods for existing PC games, such as Counter-Strike, League of Legends, Fortnite, and more. The company currently employs 81 people, most of them out of its offices in Ramat Gan. It boasts over 30,000 creators and 18 million monthly active users.

"The madness started in 2019 and the pandemic just added a tailwind to what was already working fantastically, adding to our significant growth. Covid-19 caught us at the right place, with the right capabilities. People spent a lot more time at home playing games," Marchand told Calclaist. "Even prior to the outbreak, there was a noticeable increase in gameplay. During the pandemic, it felt like we were in weekend mode all the time."

Overwolf is not a standard game developer. What it does is develop add ons to existing games — apps that track game statistics or record gameplay. "We developed a technological infrastructure that allows gamers to download apps and we share the revenues, which currently stand at tens of millions of dollars with the developers," Marchand added.

"We see the platform as a major source of long-term income for the company that can increase our revenues exponentially," Marchand said.

"Overwolf is developing the holy grail of frameworks for UGC for both publishers and in-game creators. Enabling all major publishers like us, to allow the creation of mods in a safe, secure, authorized, and profitable manner; is a game-changer for all creators and IP holders," said Oscar Navarro, Head of Corporate Development for Ubisoft.

"Similar to how developers use Unity to build a game, we see Overwolf as the framework for everything UGC related to games. Overwolf allows for one of the only means of monetization for the thousands of creators, in turn, this translates to increased engagement for the publishers and more content for gamers. Services like Overwolf set the stage for the industry to see a new generation of user-generated content and we are excited to invest in the leading company moving this space forward," commented Nick Tuosto, Co-Founder of Griffin Gaming Partners and Managing Director at LionTree.