Obie wins 'Startup of the Year' competition by Mediterranean Towers Fund
The game, made by Eyeclick, offers an interactive console for those of advanced age
Mediterranean Towers Ventures declared the winner of its fourth Startup of the Year Competition. Obie, which is a product that helps encourage physical and mental gaming for the elderly, beat out four other finalists and will now head to the international final of the Startup of the Year Competition for Technological Solutions for the Third Agers.

The competition was led by Dr. Yael Benvenisti and judged by industry leaders such as eBay representative, Gadi Michaels; former chairman of Bank Hapoalim, Yair Seroussi; executive partner of BDO, Shachar Ziv; chairman of the Mediterranean Towers, Motti Kirschenbaum; CEO of the Mediterranean Towers, and others.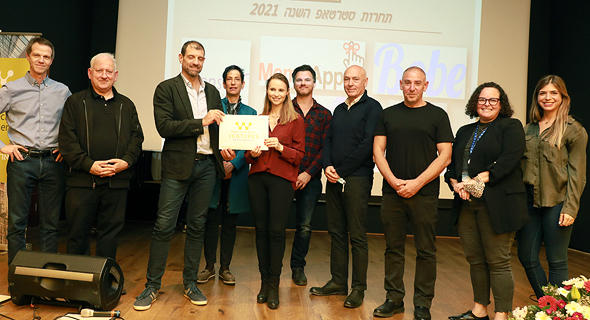 The prize was awarded to Ariel Almos, CEO of the product's developer, Eyeclick. Photo: Ranaan Cohen

The prize, which also included a $5,000 gift and six months of mentorship by the venture firm, was awarded to Ariel Almos, CEO of the product's developer, Eyeclick. Obie uses a projector to show custom-made games on any surfaces, such as floors, tables, or walls. The games then encourage physical and mental activity that is suitable for the elderly who may suffer from certain limitations.

"Our main goal at the fund is to invest, direct and support Israeli startups aiming to provide technological solutions and elevate the living quality of the third agers," said Yael Benvenisti, CEO of Mediterranean Towers Ventures. "The Startup of the Year Competition of the Mediterranean Towers Fund, held once a year, is one of the central activities among entrepreneurs, aiming to promote the Israeli initiatory ecosystem and reveal the rich potential of technological start-ups for the third age. Year after year, we see how entrepreneurs and startups are more and more attracted to this content world, as this is a growing and significant part of the population not only in Israel, but worldwide."

The remaining finalists included DONISH HEATH, a remote no-touch system that monitors medical indicators; Balanseat, which helps improve the balance of patients with unusual walking patterns; MemoApp, a robotic monitor developed for those with reduced functionality; and Bobe, a system aimed to help manage senior communities in day centers.

Mediterranean Towers Fund invests in early-stage technology companies that develop solutions for the aging community - the fastest growing population segment in the world.