Israeli fintech startup Pagaya eyeing Wall Street at $8 billion valuation
Through the first three months of the year, Pagaya registered revenue reflecting $300 million annually, and a profit of $100 million for the year
The hype around SPACs may have slightly died down recently, but that isn't preventing Israeli companies from jumping on the bandwagon while it is still steaming ahead. Calcalist has learned that fintech company Pagaya Investment is in negotiations to enter Wall Street via a SPAC merger at a valuation of $8 billion. The company is also considering a traditional IPO.

Pagaya is currently in negotiations with several SPACs (special purpose acquisition companies) regarding a merger. The talks are being led by U.S. investment bank JP Morgan. Pagaya's board of directors has yet to make a final decision on the matter, but is expected to do so in the very near future.

Pagaya uses machine learning and big data analytics to manage institutional money, with a focus on fixed income and alternative credit. The company's technology platform, Pagaya Pulse, runs on a suite of artificial intelligence technologies and state-of-the-art algorithms. The firm's total consumer credit ABS issuance is over $1 billion. The company was founded in 2016 by CEO Gal Krubiner, CTO Avital Pardo and CRO Yahav Yulzari.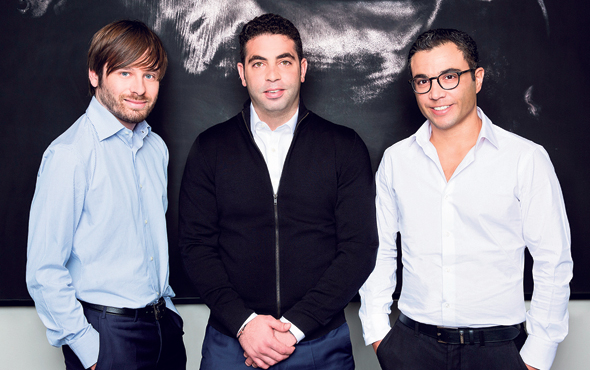 Pagaya co-founders CTO Avital Pardo (from right), CRO Yahav Yulzari and CEO Gal Krubiner. Photo: Inbal Marmari

Assuming the company does move ahead with the offering, its valuation will place it among the world's largest fintech companies a mere five years after it was founded. It will also see it follow in the footsteps of a long list of Israeli companies who are already in the process of going public via a SPAC, including ironSource, eToro, StoreDot and Cellebrite.

The high valuation is the result of the significant growth experienced by the company over recent months. Calcalist has learned that during the first three months of the year, Pagaya registered revenue reflecting $300 million annually, and a profit of $100 million for the year. The company's revenue in 2019 stood at $100 million. These numbers are especially impressive when considering Pagaya was only founded in 2016, five years after the likes of IronSource or eToro. Due to the increased demand, Pagaya has tripled its workforce over the past year and currently employs 350 people in total, 250 of them in Israel and the rest in the U.S. The company intends to recruit several hundred additional employees this year and open offices in Europe.

Pagaya raised $102 million in a series D funding round last year, taking its total funding to $215 million. The round included participation by Aflac Global Ventures, Poalim Capital Markets, Viola, Oak HC/FT, former Chairman and CEO of American Express Harvey Golub, Clal Insurance Ltd., GF Investments, and Siam Commercial Bank.