For StackPulse founders, the company is their new car in the startup race
When their first company was acquired earlier than expected, the three-person team decided to go bigger - and further - than ever before
StackPulse, which officially left stealth mode in January 2021, is already making waves in the industry. Founded by three veterans in the startup world, the automation platform for site reliability engineers has raised an impressive $28 million in two rounds. Not bad for being only a few months old. Backed by Bessemer Venture Partners and then GGV Capital a few months later, the team is already working on a solution to help SREs (site reliability engineers) and developers eliminate toil, reduce alert fatigue, and improve the reliability of software services.

Such impressive funding so early on can be largely credited to the fact that this is not the founders' first trip around the startup racetrack. Leonid Belkind, Eldad Livni, and Ofer Smadari also founded Luminate Security, which was bought after only three years by NortonLifeLock in 2019.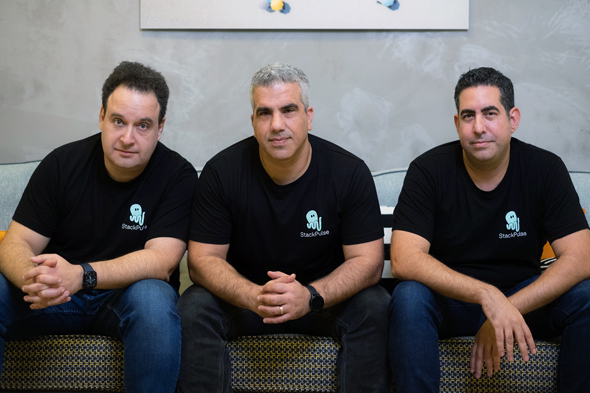 The StackPulse founders, Leonid Belkind, Ofer Smadari, and Eldad Livni. Photo: Guy Hamui

"A cynical person, who I won't quote, once said that founders are eager to sell at early stages because they don't believe in what they're doing," said Leonid Belkind, co-founder and CTO at StackPulse when speaking to CTech. While he was adamant that this was not the case for the then-Luminate team, he admitted it was hard to turn down a "life-changing" opportunity to sell.

"Sure, it's a cynical approach, and I completely disagree with it," he continued. "The reality is though, for many first-timers, the acquisition of their company is a life-changing event in terms of their standard of living and their families. I truly believe it is a difficult and compelling offer, if you get one, to say no to."

According to Belkind, the acquisition wasn't planned or anticipated. The team had noticed somewhat of a consolidation taking place in the market space - Microsoft, Check Point, and Palo Alto Networks had all started shopping - not long before they themselves were approached.

"If we did not agree to get acquired by them they would have acquired another company," Belkind said. "They had a plan B and C. We were aware of that." Understanding the risks and rewards of getting acquired early on, and being "at the height of our trajectory", they decided to sell - and their lives as first-time founders were indeed changed.

It was only a few months that went by before the three of them decided to "get back into the trenches" and try again in a new area. The life-changing event of getting acquired may be tempting, but for each acquisition that occurs, there is one less company becoming a new giant like Wix or Playtika.

"We could have continued, and maybe now that I think of it, maybe this is what contributed to getting back into the trenches," he confided to CTech. "We were in this trajectory, we may have made the right decision for us, our investors, and our employees, and right by our customers, but we always had this feeling that we didn't complete that race. And we want to complete a race."

Belkind's life has already changed - and he's not looking to change it again. Today, StackPulse is founded to specifically avoid the temptation to become yet another acquired company and reach that checkered flag at the end of the startup racetrack. According to Belkind, the itch of becoming a big company, with the possibility of going public, has not yet been scratched.

"As learning people, we want to get to a new experience, we want to try ourselves at something we haven't experienced yet," he said. "And this time we really want to go much further and build a big company and have the chance to make it public." Still riding on their initial success, Belkind and the team are convinced - or at least confident - that they can reach that goal and complete that track. "You have a bigger belief in yourself because you've already made it once. It's not like you care less and take bigger risks, but you trust your own judgment in making a calculated risk."

For them, StackPulse is that new car in the race. The 'vehicle', which is set to change how reliable software in production is run, is on track to hopefully become bigger than anything the founders have driven before. "Not everything is under your control, but regarding what is, you feel more confident and less restraint to actually drive this thing to the checkered flag," he said.