How are corporate VCs reshaping the Israeli tech landscape?
We're all familiar with venture capital firms - but what happens when large corporates check into the game?
In the last few years, Israel has seen an explosion in funding. Companies are earning Unicorn status and becoming publicly traded at a pace never seen before, and yet few people are familiar with the mechanics behind the scenes. Whereas some may have been exposed to the venture capital scene in the past, the Corporate Venture Capital (CVC) firms should not be underlooked, either.

"The business model is changing and the future is very different from the current situation of banks and retail companies," explained Avivit Bender, Chief Corporate Development & Fintech Officer at Bank Hapoalim. "And we have to think about other ways to do business." As one of Israel's largest banks, the company wanted to "focus on companies that can influence its growth", whether that's machine learning and data, robotics, natural language processing, or cybersecurity.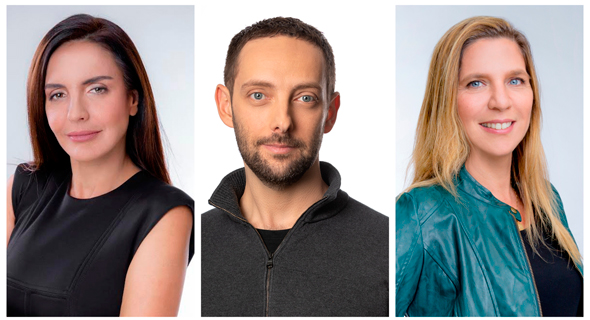 Avivit Bender, Roi Bar-Kat and Merav Weinryb. Photo: Courtesy

CVCs are managed and invested by specific divisions of a larger company for the purpose to invest in smaller ones. For example, Google has Google Ventures, Salesforce has Salesforce Ventures, and Intel has Intel Capital. For Bank Hapoalim, establishing its own CVC was essential for understanding the fintech market and understanding how it can, frankly, remain relevant in a world with cloud computing, cryptocurrencies, and the new way of open banking.

"We have huge work to do here," she continued. "There are great companies and solutions outside and the bank understands... you cannot self-develop all the time. You have to go and get the solution outside. There are great solutions to implement in the bank." In the last quarter of 2020, Bank Hapoalim invested in five companies and has three more coming in the future.

Today, international companies like Intel, Autodesk, Cisco, and many more are establishing feet on the ground in Israel to scout its talent and technology in the hope to make big returns, both financially and strategically. What they look for can be anything from tracking market trends to investing and ultimately absorbing the company and its technology.

"It could be a solid team, a big market, a good number of potential acquirers, good technology, and so on," said Roi Bar-Kat, Head of Intel Capital Israel. Intel Capital has had a presence in Israel since 1999 and has so far had 33 exits with local companies such as Habana, AeroScout, and Mellanox. In 2020, the CVC committed $735 million to 35 new and 45 follow-on deals in companies ranging from Seed to growth stage. "It doesn't necessarily need to fit into Intel's core activities. It could be investing in innovative technologies that may one day lead to or become relevant to Intel, but they don't necessarily have to be that today."

Since setting up operations in Israel over 25 years ago, Cisco has had an active role in Israel's venture ecosystem: acquiring 15 Israel-based companies and directly investing in 40 startups and five funds through its corporate development and venture capital arm, Cisco Investments. One thing that sets Cisco apart from other VCs and CVCs is that the same team handles both investments and acquisitions. This helps Cisco's team apply a unique lens when evaluating thousands of companies globally each year (and hundreds locally in Israel) and enables them to draw from their experience in providing much needed perspective to portfolio companies.

According to Daniel Karp, Director and Global Head of Cisco's Cloud and Data Center Corporate Development and Cisco Investments, "When we (Cisco Investments) first started our work as a global corporate investor, we quickly realized that Israel represented something unique: a tight-knit community of passionate entrepreneurs, solid architectural posture and technology that's highly correlated with Cisco's areas of focus, and unparalleled potential. Israel is a critical source of innovation – not just for Cisco – but also for the entire technology ecosystem in the world."

Some financial VCs who have spoken to CTech in the past praise the neutrality of conventional venture firms, something inherently missing when choosing to accept funds from firms that belong to larger corporate companies. It's understandable that some new startups may not want to feel restricted by CVCs, whether that is an inability to expand services to different competitors, or feeling they would be stuck using particular platforms like Microsoft Teams instead of Zoom.

"It wasn't so long ago that startups approached CVCs late in the game or not at all because they were afraid of investors," added Managing Director at Qualcomm Ventures, Merav Weinryb. Qualcomm, which creates semiconductors, software, and services related to wireless technology, established its venture firm in 2000 to help the mobile ecosystem grow and expand. To date, it has backed companies such as Israel's CyberX (acquired by Microsoft), FitBit, which is publicly traded on the NYSE, and in 2019 it invested in Zoom in one of the luckiest investments ever.

Israel invest. Photo: Shutterstock

"The way we look at startups and analyze them is pretty similar to financial VCs," she continued, when asked about the difference between traditional VCs and corporate ones. "(One) major difference which comes up as an advantage to the startups is that we're limited with our holding. We prefer not to hold more than 18%." Weinryb confirmed that Qualcomm Ventures holds around 10% of the company or less, and local regulations prevent a CVC from owning more than 20%. "In many cases, a traditional VC will want to have maybe 30% of the company. In many cases, we fit in better when the startups want to be their own."

CVCs have been penetrating the Israeli venture ecosystem for many years, and their presence is felt all across Startup Nation. As American companies set up shop in Israel to learn more about the tech that entrepreneurs are creating each year, it can be mutually beneficial for corporates to understand the market while young companies get access and platforms to wider networks.

"Qualcomm Ventures wants to make sure it has good coverage of technologies," Weinryb concluded. "Communication, enterprise software, enterprise infrastructure, Israel is second only after the U.S."