Rapid7 acquires IntSights for close to $400 million
The Israeli cybersecurity company is set to become Rapid7's R&D center in Israel
American cybersecurity company Rapid7 announced on Monday that it is acquiring Israeli cybersecurity company IntSights for close to $400 million, as revealed last week by Calcalist. Under the terms of the agreement, Rapid7 will pay in cash and stock to acquire IntSights, which is set to become the American company's R&D center in Israel.

IntSights, which was ranked in seventh place in Calcalist's list of most promising startups for 2021, was founded in 2015 by Israeli entrepreneurs Guy Nizan, Alon Arvatz, and Gal Ben-David.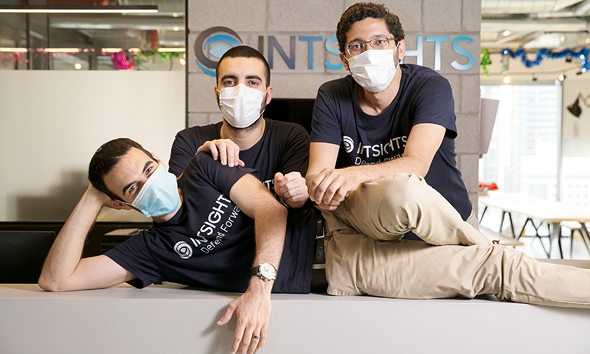 IntSights co-founders Guy Nizan, Alon Arvatz, and Gal Ben-David. Photo: Orel Cohen

IntSights has raised $70 million to date. Its investors include Qumra Capital, Glilot Capital Partners, Blackstone, Blumberg Capital, Wipro, and ClearSky.

A large portion of the company's activities is dedicated to monitoring the "darknet". The data it collects from there is fed into a platform that analyzes cyber threats for large organizations, providing intelligence on potential threats and attack vectors, and activates preventative measures before the attacks take place. The company's clients include Forbes, Novartis, Ford, and American Eagle.

"We founded IntSights to make threat intelligence instantly accessible and actionable for organizations of any type or size," said Guy Nizan, co-founder and CEO at IntSights. "We are excited to join Rapid7 to continue this mission and to bring our threat intelligence capabilities to even more customers."

With the acquisition of IntSights, Rapid7 plans to combine its community-infused threat intelligence and understanding of customer environments with IntSights' external threat intelligence capabilities.

"Cyber security is a lopsided battle today and the odds consistently favor attackers," said Corey Thomas, chairman and CEO, Rapid7. "Both IntSights and Rapid7 have a shared belief that organizations will succeed only when they have a unified view of internal and external threats, complete with contextualized intelligence and automated threat mitigation which will allow security teams to focus on the most critical threats."