Alverno Laboratories selects Ibex's AI solution for cancer diagnostics
Midwestern medical company will deploy artificial intelligence Galen platform to assist pathologists in improving quality of cancer diagnoses
Alverno Laboratories, a provider of high-quality diagnostic testing services and one of the largest integrated laboratory networks in the United States, announced on Wednesday that it will deploy Ibex Medical Analytics' artificial-intelligence Galen platform, which will assist pathologists in providing accurate cancer diagnosis for patients.

Pathologists play a crucial role in the detection and diagnosis of diseases, and their assessments are vital in reaching correct treatment decisions by oncologists. However, a rise in cancer prevalence and advances in personalized medicine have resulted in growing diagnostic complexity that significantly increases their workloads. In recent years, as pathology labs transition toward digital solutions, laboratories can implement AI enhanced workflows to improve the quality and efficiency of cancer diagnosis, resulting in better patient care.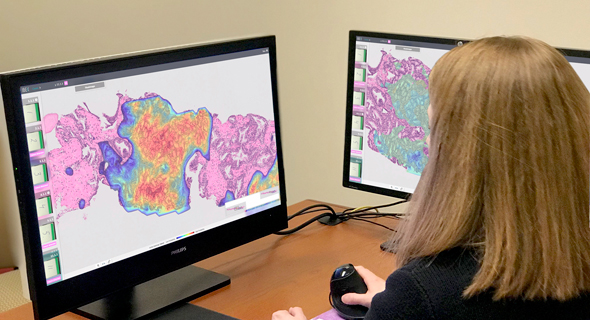 A lab technician assesses a pathology report using the technology. Photo: Ibex Medical Analytics

Ibex's Galen platform helps pathologists improve the quality of cancer diagnosis, implement real-time quality control, reduce diagnosis time, and boost productivity. The platform was recently granted Breakthrough Device Designation by the FDA and is CE marked in Europe for breast and prostate cancer detection. It has already demonstrated promising outcomes in clinical studies, and been deployed in labs worldwide. Galen's deep learning algorithms were developed by a trained team of pathologists, data scientists, and software engineers.

Alverno is one of the largest pathology laboratories in the Midwest, currently operating in 32 hospital laboratories in Illinois and Indiana, and conducts consulting for over 150,000 histological cases each year. Alverno is deploying Philips' IntelliSite Pathology Solution as part of its routine workflow, but by adding Ibex's platform, it will benefit from clinical-grade AI insights as well.

"Adopting Ibex's artificial intelligence solutions and embedding them into our diagnostic pathway will help pathologists, whose numbers are decreasing nationwide leading to an increased workload, and focus on more complicated cancer diagnoses that need a trained eye," said Sam Terese, Alverno CEO. "AI is an ideal 'digital assistant' that helps support pathologists diagnosing routine cases, and will enhance how our medical professionals work."

"Artificial intelligence and digital pathology technologies have become an essential part of cancer care programs, and their adoption is a vision shared by both Alverno and Ibex," said Joel Duckworth, Chief Revenue Officer for the Americas at Ibex.