Exclusive
Landa Digital Printing heading for Nasdaq SPAC merger at $2 billion valuation
The nanographic printing company has hired Bank of America and has been negotiating a potential merger with a SPAC over recent months
Serial Israeli entrepreneur Benny Landa is in the process of merging his digital printing company with a Nasdaq-traded SPAC, Calcalist has learned. Landa Digital Printing (LDP) has hired Bank of America to lead the move. Landa is targeting a $2 billion valuation, 20 times the company's annual revenue of around $50 million. The negotiations regarding the merger already began 2-3 months ago.

LDP has raised $700 million over two funding rounds to date. The company raised $300 million at a $1.8 billion valuation in its most recent round in June 2018. That round was led by investment company SKion and the Altana chemicals company.

LDP, which was spun out of Landa Labs a decade ago and currently employs approximately 550 people, named Arik Gordon as its new CEO in June. Gordon joined LDP after 18 years at Orbotech. In the past two years, he served as Executive VP of Strategy and Growth at Orbotech. He held several executive management positions in the company's operations in Asia Pacific, and upon returning to Israel in 2013, was appointed President of Orbotech's PCB (Printed Circuit Board) division.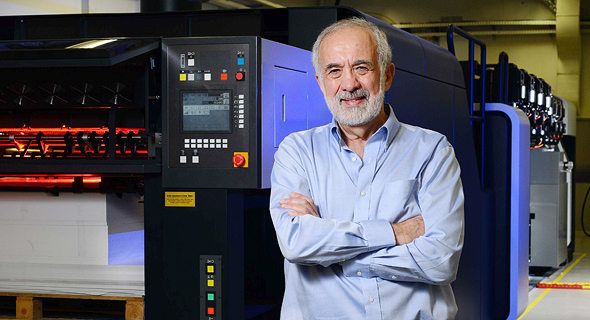 Benny Landa. Photo: Courtesy

Landa is the majority shareholder of LDP with a 54% stake, with Altana holding a 33.3% share and SKion the remaining 12.7%.

Following the acquisition of his company Indigo by Hewlett-Packard in 2002, Landa set up LDP and developed the Nanographic Printing process and a line of Nanographic Printing presses that enable the use of digital printing technology for mainstream applications. Unveiled at the drupa conference in 2012, Nanography bridges the profitability gap between offset and digital printing by enabling printers to cost-effectively produce short-to-medium run lengths.