Fintech startup PayEm comes out of stealth with $20 million Series A
The Israeli company has developed a global spend and procurement platform that captures requests, invoices, creates bills, schedules, and sends payments to anywhere in the world
Fintech startup PayEm announced on Wednesday that it has raised a $20 million Series A led by Glilot+, the early growth fund of Glilot Capital Partners. The company, which has developed a platform that automates finance processes from request to reconciliation, allowing global organizations the ability to manage non-payroll spend as needed, has raised $27 million in total after also revealing Wednesday that it had completed a $7 million Seed funding round three months ago led by Pitango First and NFX with participation by LocalGlobe and Fresh Fund.

PayEm was founded in 2019 by Itamar Jobani, CEO, and Omer Rimoch, CTO, and is headquartered in Tel Aviv. It employs 40 people and plans to expand following the latest funding round.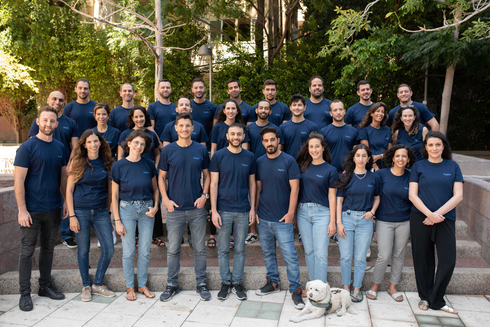 PayEm team. Photo: Or Kaplan

"PayEm's global spend and procurement platform captures requests, invoices, creates bills, schedules and sends payments to anywhere in the world, in any currency, auto-categorizes, and syncs with an ERP," Jobani told Calcalist. "It is aimed to give finance teams precious time to focus on the big picture while giving them real-time visibility by department, team, employee, subsidiary, or vendor in reporting and automation.

"Until recently, most major spend decisions were made by the procurement and finance teams. Today, however, decision-making with regards to vendors, SaaS platforms, and more are delegated to teams throughout the organization. This paradigm shift has created additional complexities for finance teams that need to keep track of thousands of small transactions using outdated technology, often handling much of the work manually. At the same time, Nilson Report estimates that annual B2B payment volume presently sits at $127 trillion and is expected to reach $200 trillion by 2028," added Jobani.

He continued: "PayEm's platform allows companies to integrate their financial systems and ERP with an advanced end-to-end customized request-to-approval workflow and payment solution. Specifically designed for global SMEs and enterprises, the platform offers control and transparency by streamlining reimbursement, procurement, AP automation, and credit card processes into corporate spending."

Companies such as Fiverr, Jfrog, Next Insurance, and hundreds more have already adopted PayEm to manage their international and local spending.

"PayEm's platform was built for national and multinational operations: with just a mouse click, one can define the default currency used for each subsidiary," said Jobani. "The platform allows every subsidiary to have financial and accounting autonomy while enabling holistic processes at the global level. The technology also has cross-border capabilities: finance teams using PayEm can send funds to over 200 territories in 130 different currencies in just one click."