New unicorns in Israel growing at an unprecedented rate
The report by the Viola investment group showed that the level of business traction required to become a $1 billion company is falling over time and that the "time-to-unicorn" parameter has significantly decreased over recent years
"We've seen global rises in technology in the past and Israel was a little bit out of it, but now Israel is a major force in global technology. The global growth and the participation of Israel in it is very encouraging and very exciting," General Partner at Viola Ventures Daniel Cohen told CTech following the release of the investment group's "State-of-the-unicorn report: Israel's Unique Example". The report was based on research on 61 of the country's tech unicorns, companies that are valued at over $1 billion. Following recent IPOs, Israel's unicorn list has mushroomed to 68 companies in total.
According to the report, the number of new unicorns in Israel continues to grow at an unprecedented rate, with 24 new ones announced in the first half of 2021 alone. By analogy, this is twice the number of new unicorns announced in China over the first six month of the year and only second to the U.S.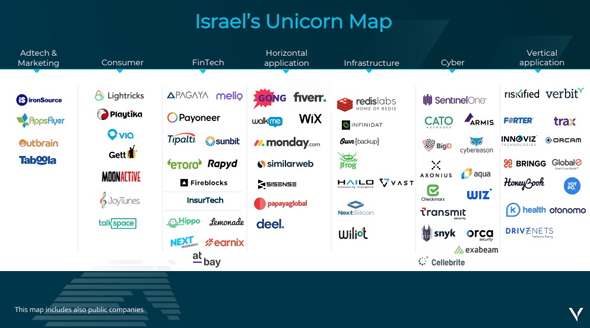 Map of Israeli tech unicorns. Photo: Viola

The report also found that Israel's unicorns are present across numerous verticals, from adtech (SimiliarWeb/IronSource) to Consumer (Lightricks), FinTech (eToro/Next), Infrastructure (Redis Labs/Jfrog), E-commerce (Bringg), Cybersecurity (SentinelOne), and Vertical applications (Verbit).

Viola's data showed that the level of business traction required to become a unicorn is falling over time. While between 2013-2018, companies needed to post at least $75-100 million in revenues, in 2020-2021, companies hit the unicorn valuation with less than $25 million in revenues or less. Cohen admitted that the current hype in the market regarding tech companies may have slightly devalued the significance of reaching unicorn status, but he insisted that is far from the case for most billion-dollar companies.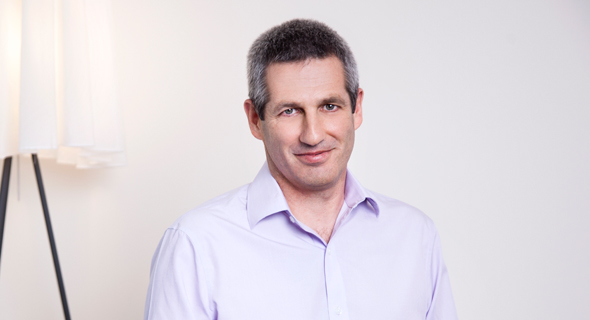 General Partner at Viola Ventures Daniel Cohen. Photo: Viola

"The market might go south and some of the companies will no longer be unicorns or even go out of business but still even in our own portfolio we have eight unicorns and seven of them are companies with revenue of over $100 million so not all of the unicorns are overvalued. There is definitely a hype but it is on top of good business," explained Cohen. "Markets go up and markets will go down. But what is sustainable and will stay here for a long time are three major things. First, Israel is a global force in technology and that isn't going away. Secondly, Israel producing a fair share of global unicorns, and thirdly, is the fact that these companies are being run by Israelis."

The report found that 50% of unicorn CEOs are located in Israel. Viola wrote that it believes the trend of keeping "full managements" in Israel (including functions such as marketing, sales, and finance), and not shifting them to the destination market as was usually done in the past, will only strengthen as digital distribution enables a different "operational model".

"This is important because we think that Israeli companies have a better chance to hire top talent in Israel than abroad," noted Cohen. "What unfortunately happened in the past was that many Israeli companies would hire executive in the U.S. and would get not the A class but maybe the A- class. But in Israel, Israeli companies can get the best people."

According to the report, the "time-to-unicorn" parameter has significantly decreased over recent years. Up until 2015, it took a company 6-10 years on average to achieve unicorn status, while today companies reach this valuation in less than five years. For example, it took TRAX (est. 2010) over ten years to become a unicorn, but eight years for Global-e (est. 2013). By comparison, Verbit, founded as recently as 2017, reached unicorn status in just four years.

The amount of capital invested to reach a unicorn status has also shrunk, with the median investment to reach a one billion valuation standing at $109.2 million, with a standard deviation of $55 million. With funding rounds growing larger at every series, today's companies can announce unicorn valuations on earlier rounds than ever before.

"In the past, companies needed to scale salespeople and that was hard. You needed to set up a sales team in the U.S. and that took time and money and now everything is done online, remotely through online distribution and it is much faster to reach revenues," said Cohen. "Not only has the time to become a unicorn gone down, but also the time it takes to reach $100 million in revneue."

Viola is among Israel's leading tech-focused investment groups with over $3 billion AUM. Founded in 2000, Viola has backed over 200 companies and 11 unicorns, such as Payoneer, Lightricks, Outbrain, SimiliarWeb and ironSource.