$100,000 up for grabs for cutting edge foodtech endeavors
Registration for Calcalist and Tnuva's foodtech 2021 startup competition, which in its four years has helped many companies to find their place at the table, is closing this Thursday
Anticipation for Calcalist and Tnuva's startup competition Food Tech 2021 is at an all-time high, especially with registration closing this Thursday. After that, 20 companies will be selected to advance and compete for a prize of up to $100,000 used for the commercial integration of technology into the Tnuva Group and/or for investment in the company, as well as up to NIS 50,000 (about $15,000) for advertising in Calcalist Digital.

"In the year since winning the competition, the company has made a huge leap forward on its path to becoming an international food company," said Prof. Yaakov Nahmias, founder, and president of Future Meat Technologies, which won first place last year.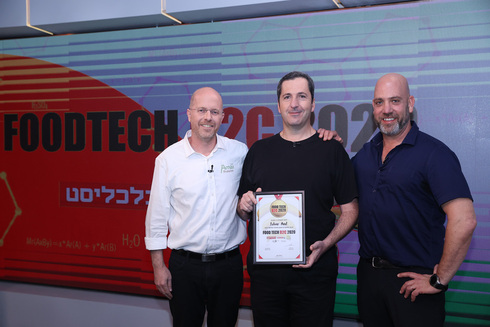 Foodtech 2020 competition winners, Amai's Dr Ilan Samish (left) Prof. Yaakov Nahmias, founder, and president of Future Meat Technologies and NextFerm CEO Boaz Noy. Photo: Orel Cohen

"Future Meat currently has strategic partnerships with major food companies including the world's largest meat company, Tyson, Swiss giant Muller, and the world's largest food ingredients company ADM. Over the past year, the company has expanded strategic partnerships and signed a joint product development agreement with Nestle," Nahmias said, describing his company's recent progress.

Dr. Ilan Samish, the founder of Amai Proteins, which came in second place in last year's competition, said: "It gave our name validation. To date, we have won 10 awards, which served investors as another part of their due diligence. The competition has judges like Dr. Tammy Meron, who is recognized as an authority in the foodtech field," he said. "So the fact that they chose us as a leading startup with a disruptive innovation that can affect a global scale assisted our progress over the past year." Last year the company raised $11.3 million, and went from 6 to 25 employees. It is currently preparing to launch its first product next year, a healthy sugar substitute.

NextFerm, which came in third place last year, also progressed significantly following the competition. "The competition gave us exposure, we just finished the development and suddenly we got a boost, especially in the local market," said Boaz Noy, CEO, and co-founder of NextFerm. "The competition gave exposure to a lot of companies which is definitely very positive and helpful." In the year that passed since the competition, the company began publicly trading on the Tel Aviv Stock Exchange, launched a production process at an industrial level, and in July secured its first order for its main product - a protein with the same nutritional value as in animal protein and with a neutral taste.

"Tnuva, which is connected to the entire value chain - from farmer to consumer, harnesses its R&D, logistics, marketing, and sales infrastructure for high-maturity initiatives with high potential to create significant change in the food market. Already today, leading start-ups operate using our infrastructure. Furthermore, we intend to triple our direct and indirect investments in the coming year, through the Fresh-Start incubator, in start-up companies in the fields of protein substitutes, personalized nutrition, and in the D2C fields," said Eyal Melis, CEO of the Tnuva Group.

Participating startups will have the opportunity to be introduced to local and foreign investors, international companies, and movers and shakers in the industry, as well as an opportunity to collaborate with Tnuva, the largest food company in Israel. In recent years, more than 150 companies have taken part in the competition.

"One of the burning issues, which there is a consensus about, is how we will be able to feed the growing world population, given the dwindling natural resources and the worsening climate crisis," said Dr. Tammy Meron, CTO of the Fresh-Start foodtech incubator, who also serves as a judge in the competition this year.

"The criteria for a winning venture in my eyes includes, first, the team - its capabilities, experience, openness and determination and most importantly the spark in their eyes, and the idea/product/technology - which should meet a significant need of the industry, be practical, sustainable, and with a clear advantage that creates entry barriers for competitors," she said.

According to Jon Medved, CEO and Founder of OurCrowd, who will also serve as a judge in the competition, "The thing we are looking for in innovation in foodtech is a comprehensive approach. Not only is there a growing need for an authentic market for alternatives to meat, fish, animal protein, and dairy products, but there needs to be a real worldview that ensures sustainable development and accountability. This is exactly the approach that will help companies grow and ensure their place in the wider investment community."