Metrolink raises $22 million seed round for dataflow infrastructure solution
The Israeli startup boasts a founding team made up of former senior officers in the IDF's Unit 8200 and Unit 81, as well as tech veterans
Very few companies can boast a founding team like that of Metrolink. Its founders include Ronen Korman, the former head of the IDF's Unit 81, the technological unit of the Intelligence Corps, Asaf Cohen, also known as Pizzer, who served for 25 years in Unit 8200, the renowned intelligence-gathering unit, and two senior tech executives in Avi Hadad, former VP R&D at GK8, and Idan Shchori, former VP Business Operations at EX.CO. Lior Susan, Managing Partner at Eclipse Ventures, is also one of the company's co-founders and serves on its board.

Metrolink, founded during the past year, announced on Monday that it has raised $22 million in its seed round from Grove Ventures and Eclipse Ventures. According to Korman and Cohen, the world of data is due for a revolution. "We believe that the next industrial revolution will be connected to the ability of companies to achieve more with their data," they told Calcalist. "Our product will allow them to do this without having to outsource to software companies or spend a lot of money on software development. We allow huge companies to make this leap with a simple tool any analyst can use."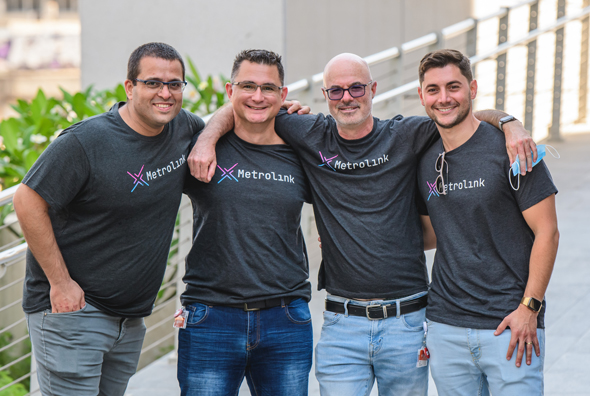 Metrolink co-founders Idan Shchori (from right), Ronen Korman, Asaf Cohen and Avi Hadad. Photo: Itzik Hanukah

Metrolink.ai is building an all-around dataflow-management omniplatform that will allow companies to build their data infrastructures in a way that can retrieve and process complex data in hours—not weeks or months. The company said it will use the funds to expand its research and development, step up its hiring, and establish a foothold in the U.S.

Metrolink.ai's dataflow management solution enables users to design their data pipelines through an intuitive and user-friendly interface. The platform supports a wide variety of automated, advanced data transformations that can be performed without writing a single line of code. It is easy to integrate with any existing business processes and databases, and can be deployed either on-premises or in the cloud. The solution is built with maximum data privacy in mind. The company also unveiled its core product on Monday, a DataOps platform designed to help enterprises and small businesses quickly build and deploy complex dataflow infrastructures.

"Hundreds of companies are yet to learn how to use data for generating business value," explained Korman. "What's keeping them down is just how much time and investment it takes to develop and deploy a full-fledged comprehensive data infrastructure. Our solution eliminates this problem by making dataflow design as simple and intuitive as it gets. Its users can focus on their business needs as the platform delivers them all the data they need for their decision-making, taking care of all the heavy lifting involved in the process."

According to Asaf Cohen (Pizzer), the new investment gives the company extra momentum as it builds the platform that "helps any business become as data-savvy as Google and Facebook."

"Using our platform, businesses, especially those from non-tech fields, will be able to generate insights and gain new value at lightning-fast speed while keeping the focus on their main operations," noted Cohen.