Shlomo Kramer's Cato Networks hits $2.5 billion valuation in $200 million round
The Israeli entrepreneur's latest unicorn has developed a cloud-based network that enables secure, rapid, and affordable enterprise communications
Shlomo Kramer is undoubtebly one of Israel's most successful cybersecurity entrepreneurs, co-founding the likes of Check Point and Imperva and investing in companies such as Trusteer, WatchDox and LightCyber. His latest baby is Cato Networks, which he founded in 2015, and which announced on Tuesday that it has raised $200 million at a $2.5 billion valuation. The entire sum will enter the company account and the round does not include any secondary deals. Cato's previous round of $130 million at a valuation of a little over one billion dollars was completed last November.

"We are up to 500 employees and experienced another year of very significant growth," Kramer told Calcalist. "I believe that the next stage for us will be going public. It has been a year since our last round and we have shown progress which is why our valuation rose and why it was the right time to raise more money. We use real models of revenues with future plans regarding how we provide investors with a nice return even during regular times and not just when there's a market bubble like now. The valuations of companies in relation to their income these days doesn't really make sense."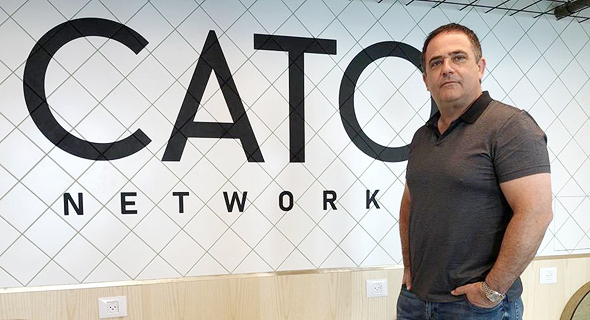 Shlomo Kramer. Photo: Courtesy

Cato Networks, which was founded in 2015 by Kramer (CEO) and Gur Shatz (president and COO) developed a cloud-based network that enables secure, rapid, and affordable enterprise communications. It is active in the field of SASE, which is one of the most rapidly developing sectors of the IT industry. Its purpose is to reduce IT complexities by converging enterprise communication and security capabilities on the cloud into a single platform while increasing efficiency and speed in security processes at low maintenance and operating costs.

"We are attacking a market of tens of billions which we invented in 2015," added Kramer. "We need to continue and invest to seize a market segment and become a category leader. Profitability will come later down the line."

The round was led by Lightspeed Venture Partners with the participation of existing investors Greylock, Acrew Capital, Coatue, Singtel Innov8, and Kramer himself. Cato is planning to recruit hundreds of new employees in Israel, with the company taking its workforce to 500 people in 2021.

Cato is the world's first SASE platform, converging SD-WAN, network security, and Zero Trust Network Access (ZTNA) into a global, cloud-native service. Cato optimizes and secures application access for all users and locations. The Cato SASE Cloud is distributed across more than 65 PoPs worldwide. Such an extensive geographic coverage has allowed Cato to address the needs of very large global enterprises. Today, dozens of such enterprises spend more than $250,000 in annual recurring revenue (ARR) with Cato, an increase of 163% year-over-year, and several global enterprises spend over $1 million in ARR.